Back to Main
Four Seasons Resort Chiang Mai
Mae Rim-Samoeng Old Road, 50180 Mae Rim, Chiang Mai, Thailand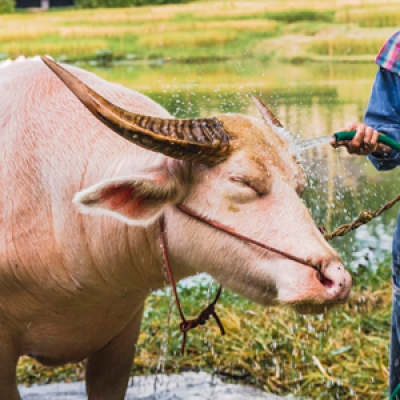 Tae
Rice Field Plougher
"I love meeting guests, especially when they pose for photos with me. I sometimes wonder how many family albums around the world I've appeared in."
Four Seasons Tenure
Since 2018
First Four Seasons Assignment: Current
Birthplace
Education
On-the-job training in ploughing skills at Four Seasons Resort Chiang Mai; attended various Four Seasons Hotels and Resorts training programmes with the Four Seasons resort Chiang Mai Gardening Department
Languages Spoken
Tae, meaning "cool" or "handsome" in Thai, joined Four Seasons Resort Chiang Mai in 2018, and thanks to his enthusiastic nature and willingness to learn, soon picked up the skills necessary to become an expert rice field plougher. Tae is a particularly handsome albino water buffalo, and is one of the Resort's best-known staff members.

A natural leader (he's often seen leading the way for his stepbrother and his personal Buffalo Butler), Tae's day begins at 8:00 am with a spot of ploughing. This is followed at 8:30 am by the first bath of the day, assisted by his trusty, dedicated Buffalo Butler, who takes care of grooming, meals and other personal issues for Tae. From 9:00 am, Tae enjoys his favourite part of the day – touring the Resort to meet and greet guests.
From 11:00 am, Tae partakes in another important task – nibbling grass near the rice barn – which whets his appetite enough for lunch at noon, usually consisting of two baskets of the freshest, most succulent green grass.
After lunch, Tae is back at work in the Resort's rice paddies. The rice takes about 120 days to grow from seed to harvest, and planting is staggered throughout the year, allowing guests to see the rice at every stage of its growth. This system means that there is a rice harvest approximately every 40 days, which keeps Tong and the other water buffaloes quite busy. It's important work – the harvested rice is donated to local Hill Tribe villagers through the assistance of Prince Bhisadej Rajani. The Royal Project was initiated by the His Majesty the King of Thailand and is overseen locally by Prince Bhisadej Rajani to motivate farmers to grow vegetables, fruit and flowers, or produce handicrafts, rather than take part in the fast diminishing opium trade in Thailand, which has been largely eradicated since the inception of this project. "It's rewarding to know that the work we do is for a good cause," says Tong.
At 3:00 pm, Tae's ready for his second bath of the day, followed at 4:30 pm by his second tour of the Resort, when he checks up on what the other Resort staff have been up to, and he also sees how the guests have been enjoying their day. Tae's working day finishes at 5:00 pm, after which he goes home to rest, relax and hang out with his other buffalo colleagues.
Tae is a full-fledged member of staff at Four Seasons Resort Chiang Mai, and he even carries his own staff ID card (#08B9). Water buffalo benefits include three complimentary meals a day, plus snacks throughout the day and night; accommodation with full facilities; cleaning and bathing service; butler service; medical services including annual physical check-up; unlimited sick leave; six months of maternity leave for female buffalo; and on-the-job technical training to ensure that all buffalo have top-notch ploughing skills.
When asked what he enjoys most about his job, he says, "When guests, especially children, come to see me, wave to me, talk to me, and smile at me, it makes me really happy. If you see me around the Resort, don't forget to stop and say hello."