One+One Unveils a Very Special Thanksgiving Dinner at Four Seasons Hotel One Dalton Street, Boston
Chef Kelley Schmidt presents a plethora of Thanksgiving classics and seasonal fixings, teaming up with Executive Pastry Chef Robert Differ to round off the occasion with a very special dessert experience for Thanksgiving Dinner at Four Seasons Hotel One Dalton Street, Boston
October 10, 2019,
Boston One Dalton, U.S.A.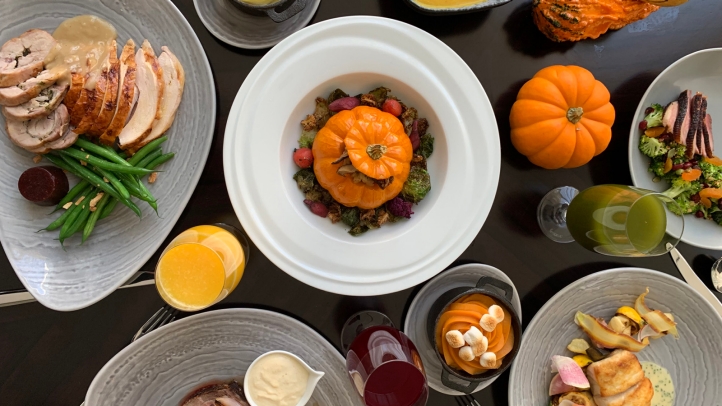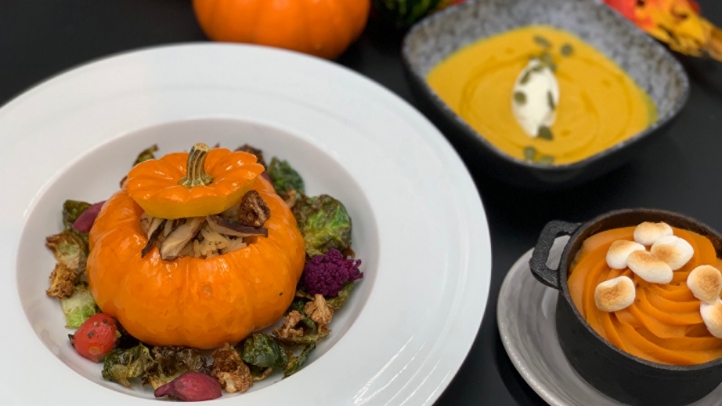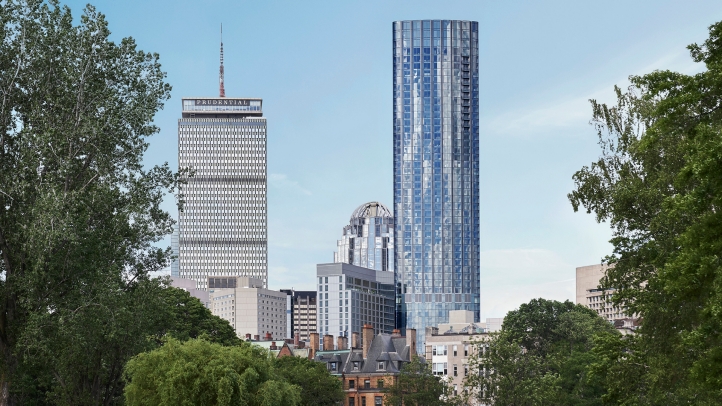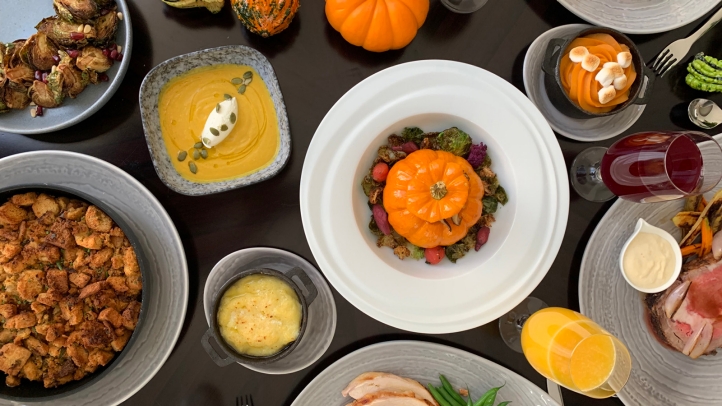 This year, allow Four Seasons Hotel One Dalton Street, Boston to play host for Thanksgiving holiday celebrations, allowing everyone to spend more precious time with friends and family in the stunning surroundings of One+One Restaurant on the Hotel's second floor.  One of the city's newest dining rooms invites guests to enjoy a sumptuous Thanksgiving Dinner experience, with reservations being taken from 2:00 and 7:30 pm.
The Welcome
As a special welcome upon arrival, all guests will be presented with a complimentary glass of bubbly, to mark not only the occasion, but also to celebrate One+One Restaurant's very first Thanksgiving Dinner since the opening of Four Seasons Hotel One Dalton Street, Boston earlier this year.  Diners are then invited to begin their dining experience at leisure, starting with a beautifully arranged centre table buffet of appetisers and salads, featuring dishes including a broccoli cranberry salad with super grains, and a roasted butternut squash soup with pumpkin seeds and cinnamon cream.
Entree Options
Senior Sous Chef Kelley Schmidt, a Four Seasons culinary veteran with previous postings including Denver, Colorado and Oahu, Hawaii, presents a thoughtfully balanced and exquisitely presented selection of entrees, with four choices.  For those seeking the traditional dish to mark Thanksgiving, a hand carved turkey awaits, served with a dark meat roulade, almond green beans with cranberry and giblet gravy.  Chef Kelley offers a juicy horseradish roasted prime rib, with glazed baby carrots, horseradish crème and herb jus, and for seafood lovers a delicate Atlantic striped sea bass is presented with baby root vegetable panache and chive beurre blanc.  Finally, in keeping with the season, there is a vegetarian choice of stuffed pumpkin with wild rice, foraged wild mushrooms and pickled vegetables.
All the Fixings
Guests are encouraged to revisit the centre table buffet when their entrees are served to add their favourite fixings to their plate, choosing from options such as sofrito stuffing, crispy Brussels sprouts, potato duo crocks, pecan sweet potato, marshmallow whipped potatoes and of course, cranberry and giblet gravy.
For Little Guests
With Thanksgiving being an occasion for the whole family to enjoy, the culinary team at One+One have crafted an attractive Kids' Station including macaroni cheese bites, vegetable sticks with ranch, and chicken nuggets with dips.  In addition, smaller guests are also invited to enjoy the centre table buffet of accompaniments.
Dessert
Executive Pastry Chef Rob Differ gives guests the perfect sweet ending to Thanksgiving Dinner at One+One, with a selection of desserts delivered to the table and arranged perfectly for sharing in family style.  Individual pies in a variety of flavours from apple, pumpkin, pecan and chocolate cream will share a stage with white chocolate latte cheesecake with Oreo crust, an indulgent carrot cake with praline cream cheese frosting, and Sicilian pistachio profiteroles.  And as an extra special treat for guests both young and old, Chef Robert will present a festive-themed donut wall, comprised of an eye-catching selection of seasonally inspired gourmet donuts, including pumpkin, apple cider, chocolate and maple glazed to name but a few.
The Details
One+One Restaurant, Second Floor, Four Seasons Hotel One Dalton Street, Boston
Thursday November 28, 2019
Reservations accepted from 2:00 pm with last seating at 7:30 pm
USD 90 per adult, USD 40 per child (ages 12 and under), children under 5 years complimentary, not inclusive of tax and gratuity
To make a reservation online click here or for telephone inquiries, call 617 377 4888.
---
---
Kristi Blake
Director of Public Relations and Communications
1 Dalton Street
Boston, 02115
USA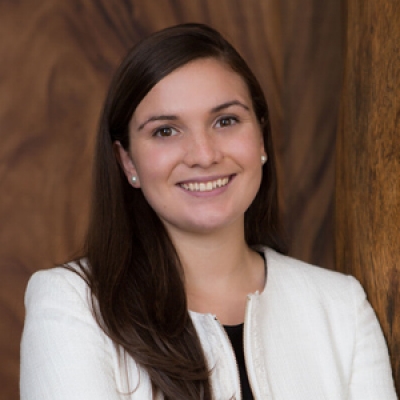 Katie Eldemery
Digital Marketing Coordinator
1 Dalton Street
Boston, 02115
USA