The Art Lover's Journey in Boston Begins at Four Seasons Hotel One Dalton Street, Boston
The art collection at Four Seasons Hotel One Dalton Street, Boston showcases work by a group of acclaimed artists that aims to elevate the guest experience and allow all visitors to enjoy a more meaningful experience of the city of Boston at the same time
May 4, 2019,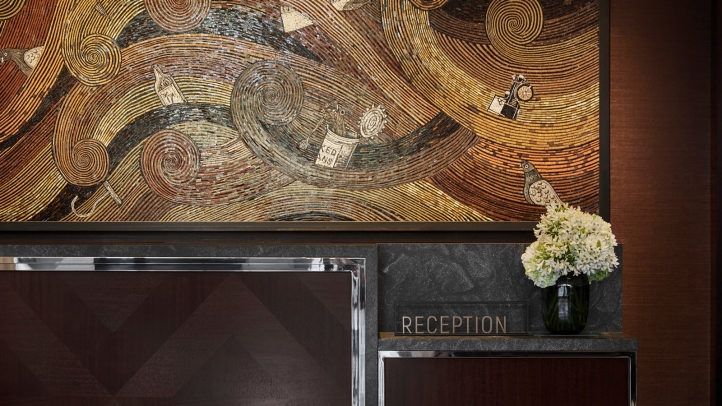 A stay at Four Seasons Hotel One Dalton Street, Boston sets the ideal stage for guests to indulge their appreciation of arts and culture. The Hotel itself is home to a diverse art collection that seamlessly connects with the rich history and beauty of the city of Boston, helping visitors to understand more about the destination that has attracted art lovers for over a century. 
The Hotel Collection
Our collaboration with world-renowned art consultants Kate Chertavian and Lucy Rosenburgh has produced a carefully considered collection throughout the property, permeating every guest room, residence, and public space for guests and residents to enjoy, with a 20-page brochure available for those who wish to learn more about the collection and the pieces that highlight it.

Site-specific pieces are thoughtfully curated, such as Boston-born Duke Riley's mosaic They Say, On a Really Hot Day depicting the local story of the Great Molasses Flood of 1919, which even though almost 100 years ago to the day, is still remembered by the very Bostonian saying "hot as molasses" in the heat of the summertime.
Yinka Shonibare's Great American Library: Dancers, Musicians and Actors references the ballet, symphony, and theatre of the immediate Arts & Music district surrounding Four Seasons Hotel One Dalton Street, Boston. The bookshelves installation also nods to the Boston Public Library, and celebrates the richness that immigration brings to a nation – a particular passion of British-born Nigerian Shonibare, recipient of a CBE (Commander of the Most Excellent Order of the British Empire) in January 2019 for his services to art.
The elegant LA Exurberance by Tacita Dean reflects the physical architecture of Four Seasons Hotel One Dalton Street, Boston. Dean's suite of 15 hand-drawn lithographs installed on the ground floor foretell the view from the height's of the 61st floor of Boston's tallest residential tower. 
Other works in the collection continue to explore themes of history, reflect a sense of place and a provide a purposeful nod to the elegance and beauty of the remarkable city of Boston. A deeper dive into the Hotel's works reveal pieces from artists Jennie C. Jones, Julian Lethbridge, Alex Katz, Louise Nevelson, Terry Winters, Alexander Coster Scott, and James Stroud.
Enjoying Art in Boston
Any visitor to Boston cannot help but leave with a strong sense that this is a city with vibrant art scene. Almost spoiled for choice, Four Seasons guests can enjoy a visit to the Museum of Fine Arts, the Isabella Stewart Gardner Museum in the Fenway-Kenmore neighbourhood, and the Institute of Contemporary Art a little further away in Boston Harbour.
To create a journey of artistic and cultural expression with Four Seasons Hotel One Dalton Street, Boston, email reservations.onedalton@fourseasons.com 
---
---
Vanessa Morin
Senior Director of Public Relations
27 Barclay Street
New York, 10007
USA