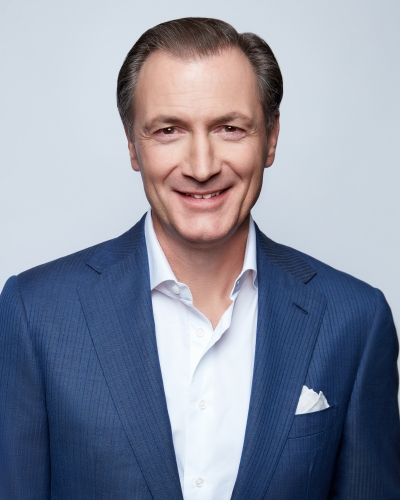 Rainer Stampfer
President, Global Operations, Hotels and Resorts
"We can never stand still. The important thing is to know when to walk slowly, and when to sprint ahead."
With responsibility for Four Seasons global operations, Rainer Stampfer is focussed on the company's core business in hotels, resorts and residences, and the myriad experiences within them, including spa and wellness, meetings and events, and a diverse collection of more than 600 restaurants and bars. Together with business leads and partners, Stampfer also oversees the operations of the Four Seasons Private Jet Experience and is playing a key role in bringing the vision for Four Seasons Yachts to life in line with the company's high standards of service.  "Four Seasons is doubling down – across the board," he says.
Promoted to his current position following one of the most challenging periods the industry has ever seen, Rainer sees clarity in the path ahead. "It's clearer than ever that travel matters. Experiencing new places and cultures, sharing experiences with those you know well and those you might have just met, celebrating our differences even as we find common ground – facilitating these desires is what we do."
Describing the company's operating platform as "utterly guest-centric," Rainer is particularly excited about the data and insights that are shaping the future of Four Seasons, and the role of technology in service delivery to enable and empower employees. Partnering with cross functional groups and fellow members of the Executive Leadership Team, Rainer and his team are focused on operationalizing this data and analytics on property to enhance the guest experience and deliver the genuine care and service for which Four Seasons is renowned.  
When it comes to product development – hotels, restaurant concepts, local experiences and so much more – it's not just the what, but more about the how.  Rainer explains, "The product quality and service delivery are critical – our guests will always remember how they feel when experiencing a Four Seasons. That is true luxury expressed with genuine heart."
Career Highlights
At Four Seasons: Having first joined Four Seasons in 2001 in Boston, Rainer was promoted to Hotel Manager at Four Seasons Hotel Los Angeles at Beverly Hills prior to earning his first General Manager assignment, opening Four Seasons Resort Koh Samui in 2007. Two years later he began overseeing the Thailand collection as Regional Vice President before relocating to Shanghai to open what was then the company's second property in the city and lending regional support to a portfolio of hotels in China. In 2016, he moved to Singapore as President, Hotel Operations, Asia Pacific, and in 2022, assumed his current role as President, Global Operations, Hotels and Resorts based in Miami.
Early career:  Six years at Hyatt hotels and resorts.
Education:  Bachelor of Business Administration with a focus on Tourism/Hotel and Restaurant Management, Fachhochschule Munich, Germany; apprenticeship in Hotel Management, Lindner's Parkhotel Oberstaufen, Germany; seminars in Psychology, Art History and History of the 20th Century, Fachhochschule Munich, Germany.
Personal Insights
For the love of beauty: Happy to spend hours in galleries, museums and antique shops, Rainer's art collection currently includes European old masters and 20th century abstract pieces as well as contemporary Asian art; he particularly treasures abstract expressionism.
The global family: Born in Germany and married to an Indonesian, Rainer's three daughters hold three passports each and speak four languages – so far.
Vacation snapshots: Rainer's favourite memories are the perfect moments of contentment, whether watching elephants by the river in the mists of northern Thailand; seeing architectural history spread at his feet from a Florentine balcony; or watching the bluest sky turn to gold as the sun sets over the Indian Ocean. "When I'm in the Maldives I honestly don't even need a room – just put me in a deck chair on the beach with a good book and a glass of wine in my hand, and I'm in heaven."