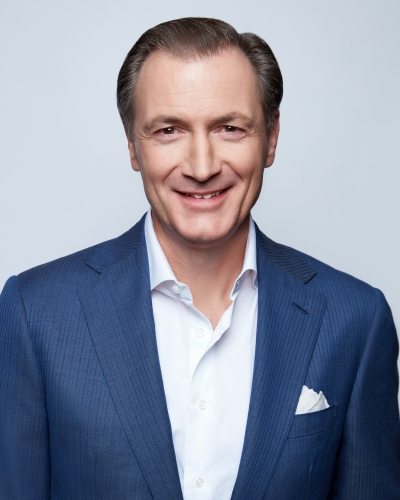 Rainer Stampfer
President, Global Operations, Hotels and Resorts
"We can never stand still. The important thing is to know when to walk slowly, and when to sprint ahead."
With responsibility for Four Seasons global operations, Rainer Stampfer oversees a diverse and growing portfolio of hotels, resorts and private residences as the company continues to strengthen its presence around the world.
Rainer is focused on ensuring today's luxury consumer – from travellers to locals alike – experience the highest standards of quality and the unmatched level of service that they have come to expect in every Four Seasons interaction.
Delivering this level of service excellence consistently means hiring the very best people, and talent development is a key priority for Rainer. Just as the company personalises the guest experience at Four Seasons, so does it customise the career path for its employees, ensuring Four Seasons is the employer of choice in every market in which it operates.
"We're culture carriers, expressing our brand values through our daily interactions with guests, owners and business partners," says Rainer. He believes that anticipating, innovating, and making subtle, and at times, bold moves is a mantra for every employee of Four Seasons.
"As we move forward, we must distinguish between the decisions that are mission critical – those that require the full force of our expertise and experience – versus those where we can afford to take risks. Our advantage is in the ability of our people to tell the difference."
Career Highlights
At Four Seasons: Having first joined Four Seasons in 2001 in Boston, Rainer was promoted to Hotel Manager at Four Seasons Hotel Los Angeles at Beverly Hills prior to earning his first General Manager assignment, opening Four Seasons Resort Koh Samui in 2007. Two years later he began overseeing the Thailand collection as Regional Vice President before relocating to Shanghai to open what was then the company's second property in the city and lending regional support to a portfolio of hotels in China. In 2016, he moved to Singapore as President, Hotel Operations, Asia Pacific, and in 2022, assumed his current role as President, Global Operations, Hotels and Resorts.
Early career:  Six years at Hyatt hotels and resorts
Education:  Bachelor of Business Administration with a focus on Tourism/Hotel and Restaurant Management, Fachhochschule Munich, Germany; apprenticeship in Hotel Management, Lindner's Parkhotel Oberstaufen, Germany; seminars in Psychology, Art History and History of the 20th Century, Fachhochschule Munich, Germany
Personal Insights
For the love of beauty: Happy to spend hours in galleries, museums and antique shops, Rainer's art collection currently includes European old masters and 20th century abstract pieces as well as contemporary Asian art; he particularly treasures abstract expressionism.
The global family: Born in Germany and married to an Indonesian wife, Rainer's three daughters hold three passports each and speak four languages – so far.
Vacation snapshots: Rainer's favourite memories are the perfect moments of contentment, whether watching elephants by the river in the mists of northern Thailand; seeing architectural history spread at his feet from a Florentine balcony; or watching the bluest sky turn to gold as the sun sets over the Indian Ocean. "When I'm in the Maldives I honestly don't even need a room – just put me in a deck chair on the beach with a good book and a glass of wine in my hand, and I'm in heaven."