Back to Main
Four Seasons Resort Costa Rica at Peninsula Papagayo
Peninsula Papagayo, Guanacaste, Costa Rica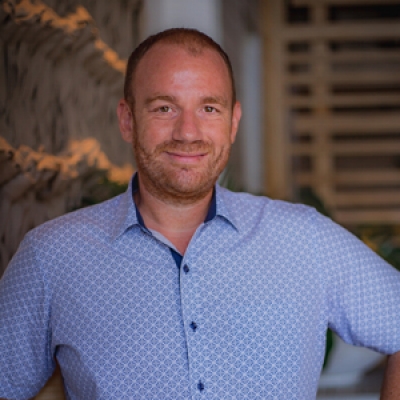 Arnaud Dieutegard
Spa Director
"Compromising happiness to be healthy is not healthy."
Four Seasons Tenure
Since 2008
First Four Seasons Assignment: Spa Therapist, Four Seasons Resort Provence at Terre Blanche (formerly a Four Seasons resort)
Employment History
Four Seasons Resort Maui at Wailea; Four Seasons Resort Bora Bora; Four Seasons Resort Provence at Terre Blanche (formerly a Four Seasons resort)
Birthplace
Education
Don Bosco Institute of Technology France - Bachelor of Engineering; Dr. Vodder School – Certificate, Manual Lymphatic Drainage; Shiatsu School – Master's Degree; Ayurveda Formation – Certificate, Ayurvedic Medicine; University Nice Sophia Antipolis – University Degree, Traditional Chinese Medicine; International Acupuncture Training Centre, Beijing China – Certificate; Elegance Academy – Advanced vocational qualifications in massage therapy; Elegance Academy – Advanced vocational qualifications in beauty care and cosmetics
Languages Spoken
In his native France, Arnaud Dieutegard graduated with degrees in electronic engineering and real estate but quickly understood his real passion was for wellness, closely following the example set by his parents, both physiotherapists and wellness speakers. He started the journey as an Ayurveda practitioner.  He then he became a Shiatsu instructor,eventually graduating with a degree in Chinese medicine and Tuina treatment in Beijing.
After his time in Asia, Arnaud returned to France to teach massage, beauty and spa treatments at the Elegance Academy in Nice.  During this time, he perfected his public speaking skills by travelling throughout Europe speaking at a variety of spa conferences.
He joined Four Seasons SPA at Terre Blanche in 2008 as a therapist, setting the course for his tenure with the company. He moved to Four Seasons Bora Bora as Assistant Manager and was promoted Spa Director in 2013.
A 2016 transfer to Four Seasons Resort Maui as Spa Manager to allowed him to gain valuable experience in a large spa operation with more than 120 employees, working alongside Pat Makozak, Regional Spa Director for the Americas.  When Costa Rica called, Arnaud did not hesitate to embark on a new adventure.  Currently he is living his dream in the majestic Peninsula Papagayo, creating unforgettable experiences with Four Seasons Resort Costa Rica.
In his spare time, Arnaud loves music and is a talented DJ.  He is joined in Costa Rica by his wife and his soon to come, a little tico.