Back to Main
Four Seasons Resort Peninsula Papagayo, Costa Rica
Peninsula Papagayo, Guanacaste, Costa Rica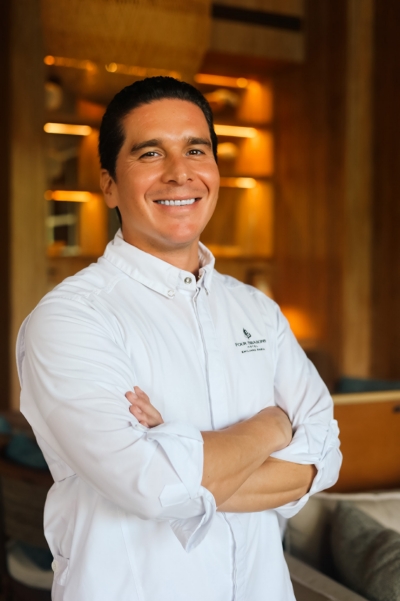 Emiliano Rabia Sottil
Executive Chef
Four Seasons Tenure
Since 2019
First Four Seasons Assignment: Four Seasons Hotel Mexico City
Employment History
Four Seasons Hotel Mexico City; W Hotel and Country Club, Bogota; Hilton Curaçao; La Fortuna, Costa Rica; Hotel de Puerto de Sky, Andorra; W Hotel, Barcelona; Mañanitas, el Chilango and el Tablao, Las Carboneras, Madrid;  Bondst, New York; Solea Restaurant, W Chicago Lakeshore and One Sixty Blue, Chicago; China Grill Restaurant, W Hotel and Hotel Condesa, Mexico City
Education
Universidad del Claustro de Sor Juana, Mexico City
Birthplace
Languages Spoken
Emiliano Rabia Sottil's love of adventure and food began when he was a child, inside his family kitchen in Mexico, learning about mole sauce and Christmas fritters. From these formidable years, Chef Emiliano has travelled the world and gained extensive culinary experience. He brings a global palate to Costa Rica.
"There is so much energy around Four Seasons Resort Costa Rica. I am excited to work with the team and infuse our culinary delights with international flavours while maintaining the emphasis of Costa Rican and Latin American ingredients," says Chef Emiliano. "I'm thrilled to be back in Costa Rica after many years abroad and working with the team in this legendary property."
A graduate of the Universidad del Claustro de San Juana, part of the University of Mexico City, Chef Emiliano has been part of contemporary lifestyle brands. As part of his tenure with Starwood W Hotels, he launched marquee properties in Chicago, Barcelona, Bogota, and Mexico City. His adventurous spirit and zest for travel led him from Mexico to Chicago, Spain to Colombia, United States, Costa Rica and eventually back home to Mexico City where he began his tenure with Four Seasons.
In addition, Emiliano has also collaborated at dinners with renowned chefs including German Tegui from Tegui in Buenos Aires; Ruben Escudero from Manko in Paris, under the structure of Gaston Acurio; Juan Cabrera from Fonda Fina and Dante Ferrero from Dante in Mexico City; Gabriel Cohelo from Mimo by Felipe Bronze in Rio de Janeiro; Paulo Machado from São Paulo in Brazil, with the Paulo Machado Research Institute; and Hiro Kwaito from Japan, working for Makoto in Mexico City.
At Four Seasons Resort Costa Rica, Chef Emiliano oversees the property's culinary direction including restaurants Nemare, Pesce, Bahia, Añejo, Palapita Tap House, and other food and beverage operations.