Back to Main
Four Seasons Resort Costa Rica at Peninsula Papagayo
Peninsula Papagayo, Guanacaste, Costa Rica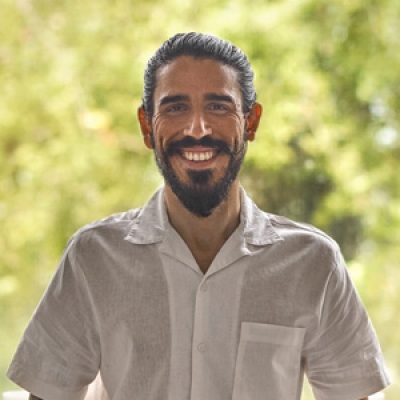 Jose Pablo Rodríguez
Wellness Ambassador
"To a mind that is still the whole universe surrenders."
Four Seasons Tenure
Since 2021
First Four Seasons Assignment: Current
Education
Yoga Alliance certified RYT-500 - Hatha yoga, Vinyasa Flow, Restorative Yoga, Yin Yoga, Reflexology and Polarity Balancing Massage Therapy certified by Devaya Yoga and the Healing Arts; 200 hours of Kundalini Yoga teacher training; technical degree in film production, direction, editing and screenwriting by SICA Buenos Aires, with studies at Universidad de Buenos Aires, Argentina
Birthplace
Languages Spoken
Jose Pablo Rodríguez is a traveller at heart, a passion ignited at a young age by his parents, both travel agents.   His many travels informed his life's path and has been a key part of his self-development. As a traveller, Jose has had the opportunity to connect, share, and work with many different people from around the world and a variety of cultures. This has helped him understand other people's needs and desires, from a more human perspective. 
To find his own voice and self-expression in the arts, Jose moved to Argentina in 2010, where he got a technical degree in film.  This experience helped him later on, as he began working as a freelance filmmaker, producing short films and music videos.
After realising that his busy lifestyle was taking a toll on his health, Jose began to question his purpose in life. Following an introduction to yoga, he decided to dive in and explore everything that had to do with the ancient practice, Ayurveda and more broadly, wellness.  Three years after dedicating himself to the practice, he decided to take his first yoga certification and make yoga and wellness his top priority, a decision he has not regretted.
Jose then became a retreat facilitator and started teaching yoga at studios and fitness facilities, as well as private massage therapies. In 2019, he realised his lifelong dream of living and teaching in Canada. He moved to Kelowna, British Columbia, where he shared his practice at The Hot Box Yoga, Oxygen Yoga & Fitness, and private and public classes.
Back in Costa Rica, Jose is sharing his passion for wellness with Four Seasons guests and colleagues, developing meaningful classes and programs that he hope will inspire students to follow their own path to wellness.
Jose is always striving to provide an outstanding experience for his guests and everyone around him. With an open heart, a kind smile, and a still mind, he devotes his presence to the moment.