Back
Four Seasons Hotel Guangzhou Welcomes New Italian Chef Domenico Cicchetti
September 21, 2023,
Italian Chef Domenico Cicchetti brings a new era of Mediterranean magic to Four Seasons Hotel Guangzhou in his new role as Head Chef of the Hotel's 72nd floor Caffe Mondo.
In his new tenure at Four Seasons Hotel Guangzhou, Cicchetti plans to introduce light Mediterranean dishes with a focus on fresh seafood – a favourite both in his homeland and in China – crafted with his trademark passion for seasonality and local produce. He is also excited to develop the talents of the young chefs in his team, viewing life in the kitchen as a perpetual learning experience for everyone.
No stranger to China, Cicchetti's intuitive talent and finesse has seen him work for some of the world's leading hospitality brands – including Soho House, Accor Hotels, Marriott International and the Gaia Group – in Beijing, Shanghai, Chengdu and Macau, as well as Hong Kong, Bahrain and across Europe.
Throughout his garlanded career, Cicchetti has won acclaim for his innovative approach. While remaining true to his Italian roots, he prides himself on being endlessly adaptable, using the very best local produce rather than importing items, and championing technique and passion over the "old-fashioned" belief that authentic Italian food demands only Italian products.
"You have to be flexible and play around with what you have," he says. "In Chengdu, for example, I spent three months perfecting pizza dough, swapping in Chinese flour instead of Italian. It was the best pizza dough I've made in my life. Success is very much about adapting: to products, to the season, to the clientele, to the chefs."
Born in the small village of Treglio, in Abruzzo, Italy, Cicchetti was picking olives and tending grapes in his family's smallholding from the age of nine, learning firsthand about the labour required to honour age-old traditions. Inspired to create in the kitchen by the vast array of dishes he encountered at lavish wedding ceremonies he attended as a child, he took his first step into the world of the culinary arts at a famed local artisanal gelateria. Recognizing that his future lay in the kitchen, he honed his craft at Abruzzo culinary college, where he specialized in Italian and French techniques, and later at Westminster Kingsway College in London.
China has long held a special place in Cicchetti's heart, not least because of the similarity of the cuisine to that of his homeland. "Chinese and Italians have a lot of things in common in our gastronomy," he says. "Italy has ravioli; China has dumplings. Italy has risotto; China has rice. Italy has spaghetti; China has noodles. And both countries produce great wine. But it goes deeper than this – just like in Italy, the Chinese dining culture is about sharing and bringing people together, creating meaningful connection through food."
It is this idea of coming together over food that Cicchetti hopes to communicate through his dishes at the Hotel's Mediterranean gem, with its bird's-eye Canton Tower views. These days, as a father himself, he also recognizes how his role has changed to encompass more of a nurturing, unified approach towards his team too. "You can't be rigid when it comes to mentoring," he explains. "You have to understand the person in front of you to know what will work for them. You have to understand their attitude, and get a sense of what they want to achieve." Central to his approach is the development of each individual's palate. "I ask every chef now in the kitchen is to taste everything they do and everything I do," he says. "I encourage them to watch, taste and feel. It's as much about developing the palate as the passion."
While Cicchetti is flexible and nurturing, he remains flawlessly professional. The scale he has worked on during the span of his career has been huge – in Macau, he headed the kitchen of a 3,000-room hotel that would serve 600 covers in an evening – but even now, each plate he creates remains an intimate conversation between chef and guest. "The best achievement for a chef is still to see a plate come back from the table empty," he concludes.
---
---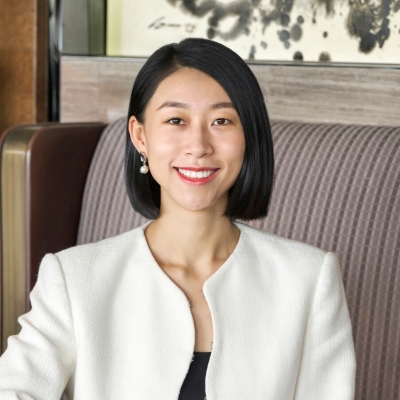 Yvonne Ye
Manager of Public Relations
5 Zhujiang West Road, Pearl River New City, Tianhe District
Guangzhou, Guangdong 510623
China
---
Four Seasons Hotel Guangzhou
PRESS KIT

Visit Four Seasons Hotel Guangzhou Website