Back to Main
Four Seasons Hotel Hampshire, England
Dogmersfield Park, Chalky Lane, Dogmersfield, Hampshire RG27 8TD, England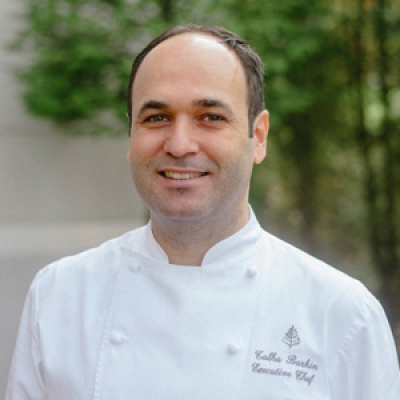 Talha Barkin
Executive Chef
"I aim to make something that respects my ingredients and brings out their natural flavours, creating a gastronomic delight."
Four Seasons Tenure
Since 2016
First Four Seasons Assignment: Executive Chef, Four Seasons Hotel Baku
Employment History
Four Seasons Hotel Baku; Fairmont Baku; Hilton Chongqing; DoubleTree by Hilton Jakarta-Diponegoro; Hilton Maldives Iru Fushi Resort & Spa; Shangri-La Hotel, Chiang Mai; Shangri-La Hotel, Hangzhou; Madinat Jumeirah, Al Qasr Hotel in Dubai; The Ritz-Carlton, Istanbul; Rixos Bodrum; Swissôtel The Bosphorus Istanbul; Swissôtel The Celik Palas, Bursa (now Celik Palas), Turkey
Education
MEKSA Vocational School, Culinary, Turkey
Birthplace
Languages Spoken
Talha Barkin joined Four Seasons Hotel Hampshire with a wealth of experience having worked in a collection of luxury hotels around the world. He began his culinary career at the age of fifteen, working with a selection of esteemed hotels in Turkey, where he gained his exposure to western cuisine under the guidance of mentors at the Swissotel and the Ritz Carlton.
His first international position saw him join the Madinat Jumeriah, Dubai in 2007 as a junior sous chef. Thrown into a challenging new environment, Talha learned to thrive in this multi-cultural setting. During his time in Dubai, Talha also cross trained in fine dining restaurants at the Burj Al Arab and won medals in a selection of prestigious culinary competitions.
He later relocated to the Far East in 2010, first to Hangzhou and then to Chiang Mai, both with Asia-based Shangri-La Hotels. It was moving to this part of the world that he gained appreciation of the region's culture, cuisine and people and it was here he was influenced by the vast and unique flavours that he now brings to his creations.
After two successful years, Talha took the next step in his journey and made his way to the Indian Ocean where he joined the Hilton Hotels in the Maldives. After only one year on property, Talha was promoted to executive chef. Living on a remote island while having the ocean as his back garden allowed him to explore ideas of sustainable seafood and sea/farm-to table concepts, and he learned to incorporate this into his cooking philosophy. 
He later continued his career with the Hilton group to open their brand-new hotel in Jakarta as a pre-opening executive chef and later led an established team in Chongqing.
His desire to move closer to home then saw Talha's next move to Baku in 2015. After one year at Fairmont Baku Flame Towers, he eagerly took the role of Executive Chef at Four Seasons Hotel Baku. After five rewarding years with the group, Talha joined Four Seasons Hotel Hampshire in February 2022.
Talha grew up in Koycegiz, Mugla, a lakeside town in Mediterranean Turkey where fresh homegrown ingredients and in season produce were a way of life. His zest for cooking was cultivated early as a young child, from watching his grandmother lovingly prepare family meals, to helping out at his uncle's beach restaurant.
When asked what attracted him to working in Hampshire, he said it was the beauty and history of the property. "My arrival at Four Seasons Hotel Hampshire was very special. To see the magical manor house through the rolling Hampshire hills on our first approach of the property, well it was something that everyone should experience." Bringing valued experience to the team and an abundance of energy, he is excited to create memorable dishes for Hotel guests. Seeking the finest locally sourced produce that the English countryside has to offer, he enjoys blending flavours from his journeys and adding his own unique twist to his dishes.
Talha believes that a passion for the craft equates to the love poured into a dish, and that's the most important ingredient of all.