Back
8 Questions for Head Sommelier Simon Li
Hangzhou at West Lake, China
Head Sommelier Simon Li offers insights into the wine program at Four Seasons Hotel Hangzhou at West Lake, including his best recommendations for pairing wine with Chinese cuisine.

The wine list in Jin Sha is comprised of 280 different wines. Some have a more detailed description than others; what impact does this have on the customer selection?
International guests usually read the whole wine list at Jin Sha, and then make their selection. The notes can help them better understand important details about the wine, such as sub origin, vintage and more. International guests are now very interested to learn more about Chinese wine production in particular and very eager to try it, often being pleasantly surprised by its quality. Our wine list includes several Chinese wines including Grace Vineyard Deep Blue from Shanxi, Jade Vineyard Aria Reserve from Ningxia, Tiansai Skyline of Gobi and Marselan from Xinjiang; and chardonnays such as Legacy Peak Kalavinka, Ningxia and Jiabeilan Estate, Chardonnay, Ningxia.
Our Chinese guests usually prefer to choose wine from a highly reputable and very famous French winery and we certainly have a very wide selection to satisfy these discerning customers.
What other factors do you take into consideration when recommending a wine?
I will also consider wineries that are on the rise, for instance Domaine Méo-Camuzet, Domaine Prieuré-Roch, Domaine Dugat-Py. I have a great respect for these wineries and they are like treasure to our Burgundy wine lovers.
You have designed a wine pairing menu with signature dishes in Jin Sha. What was your thought process to select a wine for the Shanghainese braised pork with abalone in sweet soy sauce?
Shanghainese braised pork with abalone in sweet soy sauce is a typical Shanghainese dish and considered as the signature dish in Jin Sha, so I selected the wine from a famous production area and winery. This dish is sweet, so a wine with too high acidity or too much tannin is not suitable. I paired it with a high alcohol Opus One Overture, Napa Valley, USA. The French white oak barrel has an oak and vanilla tone and a perfect match to bring out the sweetness of this dish.
What was your thought process to select a wine for Longjing tea-flavoured creme bruleé?
The sweetness and delicate body of the wine can go with the rich texture of this dessert. Also the lively acidity of the wine balances with the cream and the honey and passion fruit flavour of the wine pairs well with the caramelised sugar flavour of the dessert.
You have recently been initiated into the prestigious Ordre des Coteaux de Champagne. What is special about the Champagne list you have created?
I wanted to make the wine list representative of some of the best Champagnes in the world including the classic region of Champagne but also sub origins, vintage and grower champagne producers.
Crispy chicken with spicy salt is favorite of the "black pearl customer." What Champagne have you recommended for this dish?
This dish is crispy and yet tender. I pair it with Duval-Leroy Brut Réserve, Vertus, Champagne, France. It has a soft and smooth texture with the fragrance of green apple and yeast, elegant structure and long after taste.
What do you think influences guests' choice of Champagne? Is it your recommendation? Guest personal preference or the restaurant positioning?
Champagne and Chinese food actually match perfectly. Duval Leroy Femme de Champagne Rosé blends well with Cantonese-style dishes, Champagne Salon with seafood, and Egly-Ouriet Vieillissement Prolongé pairs well with meat.
How do you pair wine with seasonal ingredients?
In spring soft-tasting pinot work well, while white wine and sparkling wine such as riesling for summer. In autumn, during the crab season I often recommend Chinese rice wine. Our rice wine is made from rice and is flavoured and coloured with osmanthus. In winter, we match the white truffle with Italian wine from Barolo.
---
---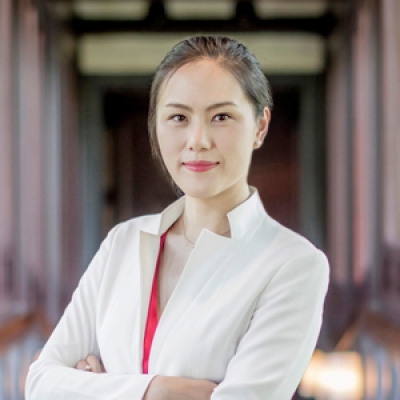 Cecilia Xu
Assistant Director of Public Relations
5 Lingyin Road
Hangzhou, Zhejiang 310013
China
---
Four Seasons Hotel Hangzhou at West Lake
PRESS KIT

Visit Four Seasons Hotel Hangzhou at West Lake Website