Back to Main
Four Seasons Resort The Nam Hai, Hoi An, Vietnam
Block Ha My Dong B, Dien Duong Ward, Dien Ban Town, Quang Nam Province, Vietnam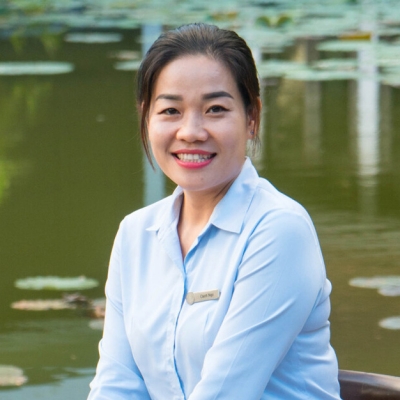 Oanh Ngo
Spa Manager of Heart of the Earth Spa and Resident Singing Bowl Artist
"Singing bowls aren't inanimate objects — they are spiritual and create a kind of energy that centres the frequencies of the body, mind and soul — the same way that I have grown to forge a strong connection with the Heart of The Earth Spa concept."

Four Seasons Tenure
Since 2016
First Four Seasons Assignment: Current
Employment History
Victoria Hoi An Beach Resort & Spa  
Education

The Karyna Centre for Transformation, Sydney, Australia
Birthplace
Languages Spoken
Growing up in Vietnam's Dak Lak province, a scenic realm of rivers, mountains, valleys and forests, young Oanh Ngo forged a deep connection with the Earth and her healing gifts. Natural wellness was a way of life at her family farm, where traditional herbs, spices and flowers were commonly used to treat ailments and relieve pain.
When the time came to choose a professional path, Oanh knew she wanted to continue developing these early, instinctive interests. Packing her bags, she headed to the Karyna Centre for Transformation in Australia, where she studied natural healing and subsequently trained in the artistry of crystal singing bowls. She then took her newfound skills home to Vietnam, joining the Spa team at the newly-opened Four Seasons Resort The Nam Hai.
It was Oanh who first brought singing bowl artistry to The Nam Hai, the only property in Vietnam to have a complete eight-octave set of crystal singing bowls. Each treatment at the Heart of the Earth Spa weaves in the melodies of these instruments, thereby connecting guests with Mother Earth through vibrations and tones.
"For me, singing bowls aren't inanimate objects — they are spiritual and create a kind of energy that centres the frequencies of the body, mind and soul. Playing them is like taking part in a heartfelt dialogue. We work in collaboration with the bowl, pouring in positivity, to create the best sound for the receiver," says Oanh, noting the key benefits of this healing practice: reducing stress, promoting mindfulness, balancing energy and enhancing physical wellbeing.
Behind the scenes, Oanh and her team carry out an intricate preparation process. Each singing bowl is carefully tuned to 432 Hz, the harmonic intonation of nature, and on full moon nights, all 32 instruments are cleansed with Nha Trang sea salt and lotus petals from the Spa lagoon to purify their spiritual power.
In 2023, Oanh was promoted to Spa Manager, a role that entails taking care of the daily operations of the Spa and its beauty and wellness program, with the overall aim of guiding guests towards a deeper relationship with Mother Earth and embracing the unity of humans and nature. "Over the years, I have grown to forge a strong connection with the Heart of The Earth Spa concept. I live and breathe it as a way of life," she shares.
Oanh's constant companion in spirit is Thich Nhat Hanh, Vietnam's most renowned Zen master, and the inspiration behind the Heart of the Earth Spa: "In his teachings, we are not separate from the Earth but one with her. Understanding this allows us to return to ourselves and be more aware of our surroundings."
Motivated by a belief in lifelong learning, Oanh continues to explore the evolving purpose and philosophy of singing bowl artistry and natural healing, with a view to regularly renewing the offerings at the Spa. In addition, she personally trains her team of talented therapists to uphold the high standards of well-being for which The Nam Hai is known.
In her leisure time, Oanh enjoys listening to music, meditating and volunteering at the nearby temple. A passionate advocate of the ripple effect of positivity, she says, "I believe that each of us is empowered to help the less fortunate and the more love we give to others, the more love we will receive in return."