Back to Main
Four Seasons Resort The Nam Hai, Hoi An, Vietnam
Block Ha My Dong B, Dien Duong Ward, Dien Ban Town, Quang Nam Province, Vietnam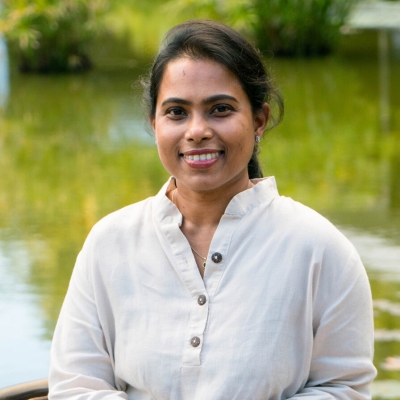 Sudha Nair
Wellness Manager
"Nature offers so many ways to heal and renew the body, mind and spirit. Embracing this wisdom can be life-changing."
Four Seasons Tenure
Since 2019
First Four Seasons Assignment: Four Seasons Resort Chiang Mai
Employment History
Dharana Wellness Retreat, Hilton Shillim Estate Retreat & Spa, India; Four Seasons Resort Chiang Mai, Thailand; Balance Health, Hong Kong; Season Fitness, Hong Kong; Modern Beauty Salon, Hong Kong; DR Spa, Hong Kong; Hilton Golden Palms Spa & Resort, Bengaluru, India
Education
Master's Degree in Rehabilitation Science, Hong Kong Polytechnic University, Hong Kong; Bachelor's Degree in Alternative & Complementary Medicine and Yoga, Rajiv Gandhi University, India
Birthplace
Languages Spoken
With more than 20 years of experience in naturopathy and yoga, Sudha Nair finds immense joy in guiding guests on a holistic path to achieving their wellness goals. At the core of her wellness approach is a deep belief in the vast therapeutic potential of the natural world. "Nature offers so many ways to heal and renew the body, mind and spirit. Embracing this wisdom can be life-changing," she says.
Growing up in Bengaluru, India, Sudha was fascinated by the intricate workings of the human body from an early age. When the time came for university, her interest in physiology and holistic healing led her to a five-year degree in naturopathy, where she delved deeply into alternative and complementary medicine, Ayurvedic therapy and yogic science.
Sudha started her career as a naturopathic expert at a luxury hotel in India before moving to Hong Kong to lead the opening of an Ayurvedic spa. After completing a master's degree in rehabilitation science, she spent eight years as a naturopathic doctor at a premier health centre in the city. During this time, she also presented a paper on natural well-being at the first inaugural International Yoga Conference in New York, USA.
In 2019, she joined the team at Four Seasons Resort Chiang Mai, leading wellness programs around a variety of goals such as stress reduction, weight management and deep cleansing. This was followed by a rewarding tenure as naturopathy manager at an acclaimed eco-wellness resort in India, where she oversaw the Spa's wellness offerings, including therapies such as acupuncture, cupping and reflexology.
For Sudha, wellness is a way of life, held together by small daily routines — drinking sufficient water, walking at least a mile a day in nature, and taking the stairs instead of the elevator. Many of her personal choices continue to be guided by her father: "a socially responsible and eco-conscious person who showed me the true benefits of practising a simple, natural and sustainable lifestyle."
At The Nam Hai, she curates customized programs for guests to build healthier habits around nutrition, exercise, mindfulness and disease prevention. She is also passionate about leading physical, mental and spiritual health initiatives for both guests and team members at the Resort. "The human body has an astonishing capacity for self-healing. I want to encourage people to have faith in the power within and give themselves a chance to heal naturally," she explains.
In her leisure hours, Sudha nourishes her creative side through artistic pursuits such as painting and crafting. An ever-curious foodie, she also loves trying out different local dishes in and around Hoi An.