Back to Main
Four Seasons Hotel Istanbul at Sultanahmet
Tevkifhane Sokak No. 1, 34110 Sultanahmet-Eminönü, Istanbul, Turkey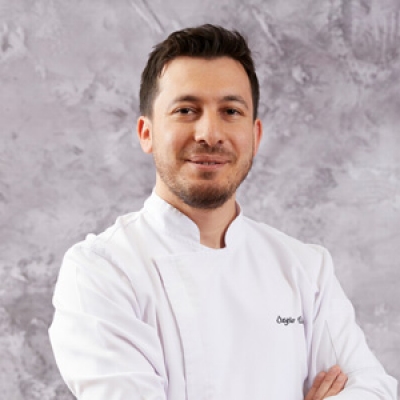 Özgür Üstün
Executive Chef
"I have always enjoyed cooking and developing local cuisine and creating modern recipes, but I cannot say that I am a traditional chef. I want us to be the spark behind culinary trends."
Four Seasons Tenure
Since 2022
First Four Seasons Assignment: Current
Employment History
Six Senses Kocatas Mansions, Istanbul; St. Regis, Istanbul; Istanbul Marriott Hotel Sisli; The Grand Tarabya, Istanbul; Atmosphere Restaurant, Dubai, UAE; Armani Hotel Dubai; Park Hyatt Hotel, Dubai; Divan Palmira Bodrum, Turkey; Kempinski Hotel Barbaros Bay, Bodrum
Education
Diploma, Hospitality and Recreation Marketing Operations, Mengen Cooking High School, Bolu, Turkey
Birthplace
Languages Spoken
"There are two Executive Chef positions for Four Seasons here in Istanbul. I'm so glad I was considered for this one." That's Özgür Üstün recalling the outreach he received from the Hotel Manager of Four Seasons Hotel Istanbul at Sultanahmet that landed him leading culinary operations at the historic address in the heart of the city. "I've always liked working in boutique hotels," he continues. "At a big property your role is to ensure the operation runs smoothly. Here I'm right in the kitchen doing things myself."
With four food and beverage concepts on his plate, plus oversight of in-room dining, banqueting, and assorted guest amenities, there is plenty for Üstün to do. Surrounded by greenery in the courtyard, the Hotel's signature dining experience Avlu plays to his interests in Anatolian cuisine including Turkish, Armenian, Levantine, Mediterranean, and other regional dishes. "I have always enjoyed cooking and developing local cuisine and creating modern recipes, but I cannot say that I am a traditional chef," he says. "I want us to be the spark behind culinary trends with micro-seasonal menus and presentations that balance tastes, textures, looks, and sustainability."
The last of those looms large for Üstün, who actively prioritizes sustainability for the future of food sources. He uses only local ingredients harvested in and around Turkey and serves them seasonally even if the seasons – like, say, the month-long moment for okra – last only a short time. He grows his own herbs onsite, prioritizes sourcing from small organic farms, and serves only sustainable seafood from the Mediterranean and Black Seas and the Bosphorus strait.
Üstün also belongs to a collective of chefs that aids local hotels and restaurants in doing the same, acting as a guide to Istanbul's sizable Metro Gross Market to help culinary teams find sustainable products at their seasonal peaks of flavour. "Fortunately, a lot of outlets in the city are embracing sustainability these days. Using just the right products has been my passion for a while."
Üstün also minds the menus at the Hotel's other concepts including Lingo Lingo Bar & Restaurant, where an interior Blue Room serves only seafood; La Pastiche in the lobby serving French and Turkish-style patisserie, many incorporating pistachios from orchards in Antep; and a lounge setting on the terrace, where cocktails and Champagne are paired with small plates and bites with local and international inspirations.
Hailing from Bolu in northern Turkey, a city renowned for gastronomic talent since Ottoman times, Üstün comes from a family of chefs. His grandfather worked for five-star hotels in Turkey and Austria, and his father opened a restaurant in Bolu where Üstün got his start. Indeed, while still a student at a local culinary high school, he would forgo football with friends after class to hone his technique in the kitchen. "I love football, but I was more interested in cooking than playing. I was never bored at the restaurant."
After earning his diploma, Üstün took his growing talent and his parents' encouragement – "My mother has always been the best chef!" ­– and headed for Dubai, landing at luxury hotels and learning to create luxurious international cuisines. "I worked at some good French restaurants and we would take things over the top." The quality of ingredients impressed him, he remembers. "So when I returned to Turkey after six years, I committed myself to using only fresh local products."
Drawing on his experiences at smaller properties in Istanbul, Üstün has now built a team of young talents at Four Seasons, and he likes them to bring their own ideas. "Everybody is free to contribute," he explains, noting that he didn't want to do what many boutique properties do and bring in experience only from 5-star hotels. "I'd rather focus on what we need and be able to blend all of our talents together."
Meantime, with one baby girl, Üstün and his wife like to enjoy their free time on the road visiting various cities to discover the rich culinary cultures across Turkey. "There is so much to experience here – the herbs and spices of the south, and fresh products such as olives, varieties of green herbs, and grapes on the Aegean side. The more we travel, the more I learn."