Back to Main
Four Seasons Resort and Residences Jackson Hole
7680 Granite Loop Road, P.O. Box 544, Teton Village, Wyoming, 83025, USA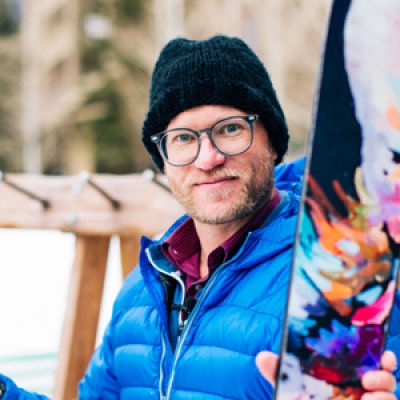 Byron Bade
Recreation Manager
"I love to spend as much time as possible on my bike, in a boat, surfing or on skis. I also enjoy travelling, cooking and – of course – planning my next adventure!"

Four Seasons Tenure
Since 2021
First Four Seasons Assignment: Current
Employment History
North Carolina Outward Bound School; Voyageur Outward Bound School, Minnesota; Carolina Tailwinds; North Pole Expeditions; Living Adventure

Education
Bachelor of Science in Outdoor Education from Northland College in Ashland, Wisconsin
Birthplace
Languages Spoken
An adventurer at heart, Recreation Manager Byron Bade's wanderlust and backcountry expertise have inspired a career of diverse outdoor experience in a variety of hands-on leadership roles. Past experience includes leading sea kayaking in Apostle Island National Seashore, teaching backcountry and technical skills in the Outer Banks, and spearheading skiing and dog sledding adventures with North Pole Expeditions.
This diverse resume positioned Bade perfectly to take the helm of Basecamp at Four Seasons Resort and Residences Jackson Hole. Bade said the mountains were calling, and he was thrilled to find the role with Four Seasons available. "Skiing has been my greatest passion since I was three years old," explains Bade. "I had travelled to Jackson Hole before, and had phenomenal days of skiing, both at the mountain and in the backcountry."
In his role at Basecamp, Bade is responsible for creating and implementing high-end recreational offerings for guests, overseeing a team of employees, and collaborating with all departments to ensure adventure opportunities are top-of-mind.
A typical day in Basecamp begins at 7:00 am, getting the equipment and shop ready for the guests, and meeting with the staff to debrief on the day prior and make a plan for day ahead. Basecamp opens to guests at 8:00 am, and the focus shifts to greeting guests by name, and helping get them set with personalized care and attention for their day on the mountain. A perfect day for Bade involves getting in a few ski runs in between the morning and late afternoon rush, taking full advantage of the property's ski in/ski out access to Jackson Hole Mountain Resort.
Prior to Four Seasons, Bade worked for six years as the program director for North Carolina Outward Bound School, overseeing all programming, and managing the facilities and staff. He planned curriculum, organized local service projects, and taught and role-modelled positive interpersonal skills to both staff and participants. In addition to his role as program director, Bade led expeditions with Voyageur Outward Bound School in Minnesota for more than a decade. He was directly responsible for the development of wilderness field staff on trips ranging from eight to 50 days.
Alongside his role at Outward Bound, Bade worked as a bicycle tour guide with Carolina Tailwinds, facilitating high-end vacations for individuals and groups in North Carolina. He also spent time leading dog sledding and skiing expeditions with North Pole Expeditions, as well as sea kayaking trips with Living Adventure.
A graduate of Northland College in Ashland, Wisconsin, Bade is a certified Wilderness First Responder. He has credentials as a Backcountry Guide and is a Level-4 Open Water Sea Kayak Instructor. Bade also touts his culinary skills among his top accomplishments. "I fancy myself a heck of a cook – both in the kitchen and in the backcountry – and have cooked a number of gourmet meals in some of the most remote settings in the world!"