Back to Main
Four Seasons Resort and Residences Jackson Hole
7680 Granite Loop Road, P.O. Box 544, Teton Village, Wyoming, 83025, U.S.A.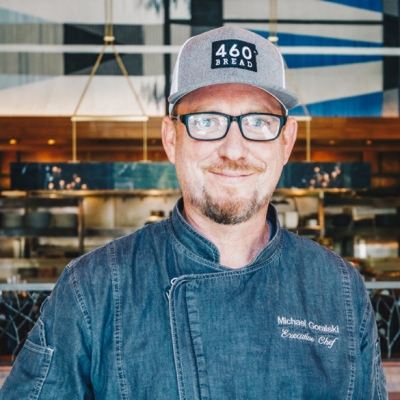 Michael Goralski
Executive Chef
"I love being in the heat of the battle."
Four Seasons Tenure
Since 2004
First Four Seasons Assignment: Executive Sous-Chef, Four Seasons Resort Scottsdale
Employment History
Four Seasons Resort Maui at Wailea; Four Seasons Resort Scottsdale at Troon North; Arizona Biltmore Resort & Spa; Ritz Carlton Hotel, Phoenix; Four Seasons Resort Maui at Wailea; Grand Wailea Resort & Spa
Birthplace
Los Angeles, California, USA

Education
Certificate in Culinary Works, California Culinary Academy, San Francisco
Languages Spoken
After two decades in the restaurant business, Michael Goralski has reached the top of the kitchen. Yet as thrilling as it is to be Executive Chef of Four Seasons Resort Jackson Hole, he is keeping things in perspective. "The important thing in this business is not what it says on your jacket, but that you work with creative people," notes Goralski, who counts mentoring staff among his most significant responsibilities. "I tell my cooks: 'You are not sous-chefs – you're chefs.'"
The progeny of two teachers, Goralski learned to cook for himself and, eventually, mastered the youthful art of throwing well-fed parties in high school. It was working the breakfast shift at a diner in Los Angeles, of all things, that lit the flame of his culinary passion. "I learned early to multi-task at a very high speed, which is often an overlooked skill."
That was nothing compared to what awaited him during his internship at Commander's Palace in New Orleans. A standout among fine-dining operations for turning out exquisite fare at a short-order pace, the restaurant's 30-cook kitchen ran under an old-school philosophy of "smacking down" recent culinary-school grads from day one. Character building? Sure, remembers Goralski, who reports that such extreme treatment is now pretty much a thing of the past. "Today's culinary school graduates aren't interested in intimidation. They want to be instant chefs," he says, adding, "Of course, they might be in for a big surprise."
Today's generation can learn a lot from Goralski, who has never been shy about employing cutting-edge culinary techniques. As Executive Sous-Chef at Four Seasons Resort Maui at Wailea, he mastered sous-vide: the slow, low-temperature, vacuum-bag cooking method favoured at the world's top restaurants, which can work wonders on Rocky Mountain staples like elk and buffalo. He also dips his ladle into molecular gastronomy, dressing up dishes with balsamic caviar and other dazzling elements that impress foodies and chemistry professors alike.
Goralski is a rarity among Four Seasons chefs in that, after originally joining the company in 1994, he left for a spell to try out his talents elsewhere. The experience proved beneficial on many levels, not least in revealing the wisdom of Four Seasons' hands-off approach. "So many hotel companies micromanage their chefs, and have dishes tasted by five different people before you can put them on the menu. That's no way to inspire a chef."