Back to Main
Four Seasons Hotel Kuwait at Burj Alshaya
Al Soor Street, Al Mirqab, PO Box 735, Safat, 13008, Kuwait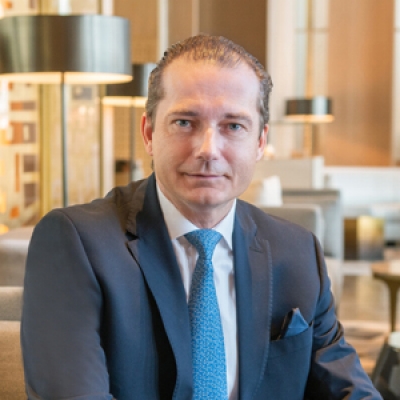 Martin Kipping
Hotel Manager
"If you want to go fast, go alone. If you want to go far, go with others."
Four Seasons Tenure
First hired 1997, now since 2021
First Four Seasons Assignment: Assistant Lounge Manager, Four Seasons Hotel Washington, DC
Employment History
Viceroy Los Cabos, Mexico; Viceroy Zihuatanejo, Mexico; Viceroy Anguilla (now a Four Seasons resort), BVI; Four Seasons Hotel Las Vegas; Four Seasons Resort Costa Rica at Peninsula Papagayo; Four Seasons Hotel Boston; Four Seasons Resort Nevis, West Indies; Four Seasons Hotel Berlin (formerly a Four Seasons hotel); Four Seasons Resort Nevis, West Indies; Four Seasons Hotel Washington, DC; Beau Rivage Palace Hotel, Lausanne, Switzerland; Dorchester Hotel London, UK; Renaissance Hotel Duesseldorf, Germany
Education
Diploma in Hotel Management, SHA Hotel Management School Les Roches, Bluche, Switzerland   
Birthplace
Wissen an der Sieg, Germany
Languages Spoken
German, English, Spanish, French
An internationally accomplished hospitality professional, Martin Kipping is the epitome of a career hotelier who rejoined Four Seasons in 2021, following an initial tenure that spanned thirteen years and five prestigious Four Seasons properties across the globe.  Demonstrating an impressive resume of guiding both strategic and operational success, Kipping is the Hotel Manager at Four Seasons Hotel Kuwait at Burj Alshaya.
Kipping's upbringing in his native Germany did not immediately point him to a career in hospitality.  The son of an industrial engineer, growing up about an hour's drive from Cologne, a city rich in architecture and culture, had him developing other ambitions.
"At ten years old, my mind was set on becoming a professional soccer player," explains Kipping, whose father played himself at semi-professional level in the sport.  "Like most boys of that age, the dream didn't become reality, but to this day I still love playing and watching the game, and I enjoy cheering for my favourite teams FC Köln and Liverpool," he smiles.
Kipping's career ambitions soon switched to the hospitality industry and gathered pace after his graduation from the prestigious Les Roches School of Hospitality in Switzerland.  The guidance of mentors such as Ricci Obertelli, general manager of The Dorchester in London, gave the aspiring hotelier plenty of support as he set out upon his journey.
"I was fortunate to have some of the best teachers in this industry, inside and outside of the classroom, and now I consider it my responsibility to pass my experience onto the new generation of hoteliers coming through," Kipping modestly explains.
"Thinking back to those early days, my experiences of learning the industry from its very foundations, across all departments, have been instrumental in helping me to relate to the hotel colleagues that I have responsibility for now," he says, underlining a truly human-centric approach to his role as Hotel Manager at Four Seasons Hotel Kuwait at Burj Alshaya.
Whilst this current appointment may be Kipping's first in the Middle East, an extraordinary resume that has covered a multitude of posts in Europe, North America, Latin America and the Caribbean, leaves one with little doubt of his adaptability to new surroundings.
"I am excited to be here and learn more about the culture and traditions of this fascinating country," explains Kipping, alluding to his curiosity of the Middle East.  "I firmly intend to travel around the country, and further afield in the region whenever my busy work schedule allows for it," he smiles, indicating an awareness of his responsibilities as Hotel Manager.
"I always strive to be an excellent host to our valued guests who come through our doors," says Kipping, pointing to a sense of duty within his role.  "I am driven to create meaningful experiences that stay within the memories of our guests, long after they are gone," he explains.
Kipping's professional life has certainly committed to him to one of travel and a series of relocations as his career grew.  The fact that he chooses to tell the story of his illustrious journey by blending both personal and professional highlights demonstrate the joy he takes in both aspects of his life.
Having met his wife of more than 15 years while Assistant Director of Food and Beverage at Four Seasons Hotel Boston, since then they have relocated internationally four times and had two children, before securing a return to the Four Seasons family.
"I am proud to be rejoining Four Seasons and have the added excitement of the opportunity to bring my family with me to share this wonderful new chapter of life in the Middle East together."