Back to Main
Four Seasons Hotel Kuwait at Burj Alshaya
Al Soor Street, Al Mirqab, PO Box 735, Safat, 13008, Kuwait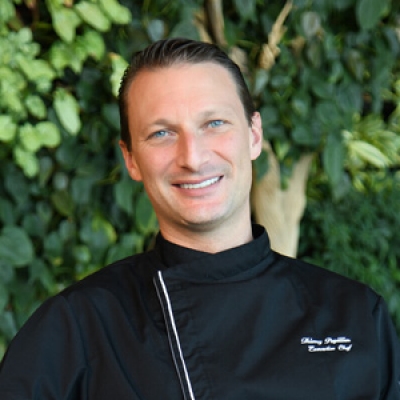 Thierry Papillier
Executive Chef
"I don't serve food. I serve memories."
Four Seasons Tenure
Since 2010
First Four Seasons Assignment: Executive Sous Chef, Four Seasons Hotel Cairo at Nile Plaza
Employment History
Four Seasons Resort Marrakech; Four Seasons Hotel Casablanca; Four Seasons Resort Mauritius at Anahita; Four Seasons Hotel Cairo at Nile Plaza; Cairo Nile Hilton; additional restaurants in France
Education
Lycee Hotelier de la Guerche de Bretagne; certificate in chocolate training, Le Nôtre's School; Alain Ducasse formation centre
Birthplace
Languages Spoken
Internationally accomplished across a plethora of celebrated Four Seasons properties, Executive Chef Thierry Papillier is the culinary custodian of the much-adorned dining hotspots of Four Seasons Hotel Kuwait at Burj Alshaya, in addition to its busy banqueting operation.
On the 21st floor, he is responsible for the delivery of fine Italian dining and the unique sophisticated style of Dai Forni, as well as Sintoho's energetic Asian concept.  Moving through the Hotel's elegant dining spaces, from the light-filled breakfast room of Elements, to Al Bandar's resort-like outdoor terrace and down to the lobby-level refinement of Al Soor Lounge, Papillier has an eye for detail that is fixed firmly on delivering only the highest quality experiences for guests.
"I don't serve food.  I serve memories," he states, with a smile that unveils a hugely personable side that endears itself to the knowledgeable and sociable Kuwaiti dining community.  "I love making friends in the dining room," says Papillier, showing his understanding that guests are motivated not just by a high-quality product on the plate, but also by an outstanding all-round experience.
"Kuwait is blessed with an excellent collection of restaurants and while I am honoured to be a part of that community, there comes a responsibility to keep our standards high and to deliver a memorable experience for our diners, whatever the occasion," he explains.
More than 15 years of international culinary experience have helped Papillier develop a level of skill in different cooking styles and concepts that his peers would find hard to match.  Coupled with a refreshingly humble and adaptable approach, Papillier is well set to exceed the expectations of diners at Four Seasons Hotel Kuwait at Burj Alshaya.
More than a skilled culinarian, Papillier is driven by an innate desire to coach and develop a team around him in the kitchen.
"I consider a duty, rather a responsibility, to give those around me the opportunity to grow and develop their skills," he explains.  "I want my team to feel empowered in what they create on the plate," he adds, alluding to a human-centric approach to leadership from within the kitchen.
Food and drink have been passions for Papillier since his childhood in Brittany, in the northwest corner of France.  Aged just three, he was already baking cookies at home with his mother.  As a dedicated student, he focused his studies on cuisine and earned a certificate in chocolate training, before accepting a position at a Relais & Chateaux hotel on the coast of Normandy.  It was the first of five one or two Michelin-starred restaurants that employed him over six years in France – all before he turned 25.
In 2007, Papillier accepted his first position abroad at an international hotel address in Cairo. A year later, he joined another Cairo hotel as executive sous chef overseeing two restaurants and a French brasserie and nightspot. That's where Papillier's talents were first tasted – and appreciated – by the Food and Beverage Director of Four Seasons Hotel Cairo at Nile Plaza, who soon hired the 29-year-old as the youngest Executive Chef in Four Seasons.
The Cairo assignment was also quite a launching point for Papillier's ongoing Four Seasons career. In 2012, at the age of 30, he moved on to lead kitchen operations at Four Seasons Resort Mauritius at Anahita, which counts four restaurants of its own. It was his first address outside of a city and his first resort. "Everyone had always told me I should try my talents at a resort. It was completely different and, in some ways, more difficult, in a good way, than being at a city hotel."
A move to Morocco followed, that saw Papillier have responsibility for Four Seasons properties in Casablanca and Marrakech, before his latest appointment as Executive Chef of Four Seasons Hotel Kuwait at Burj Alshaya, which delighted him on a personal and professional level.
"I was thrilled to be given the opportunity to relocate to Kuwait because I had heard great things about the dining scene here," he explains, paying homage to the diversity and high quality of culinary experiences available in Kuwait.
Papillier is joined in Kuwait by his wife and four children. What might one find the chef doing when he is not at work at Four Seasons Hotel Kuwait at Burj Alshaya? He enjoys various sports and recreation, but to be honest, his mind is pretty much always on food. "Even when I'm not in the kitchen, I'm in the kitchen."