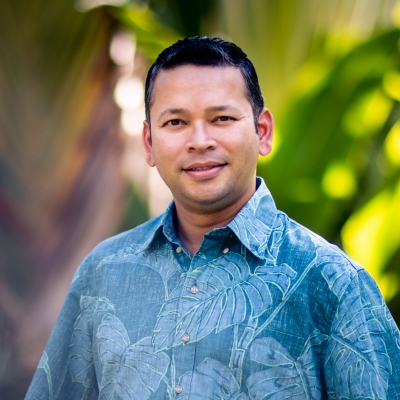 Avi Phookan
General Manager
"Feel inspired by the purpose of what you set out to do in the first place. And remember to take your people with you on this purposeful journey. When your purpose is clear and you have genuine people beside you, all other hurdles are like white noise and temporary."
Four Seasons Tenure
Since 2022
First Four Seasons Assignment: Resort Manager, Four Seasons Resort Lanai
Employment History
Ritz-Carlton Hotels; Marriott International; Waldorf Astoria; Kempinski Hotels & Resorts
Education
Insitut Hotelier Cesar Ritz, Switzerland
Birthplace
Languages Spoken
English, Assamese, Hindi, German (Basic)
Born in Assam, India and having spent his childhood in the foothills of the Himalayas, Avi Phookan graduated from the Insitut Hotelier Cesar Ritz in Switzerland, a dream that began while accompanying his father as he travelled throughout India representing a tea business.  Visiting distinct destinations during these visits fuelled his desire to travel and explore the world.
He continued his studies in Switzerland in Canton Valais, home to the Matterhorn and numerous luxury Alpine resorts. During his first stagiaire (apprenticeship) at a restaurant in Geneva's Old Town, he received a Tissot watch from a guest as a tip for taking care of his family's dinner – an incredible moment for him (the concept of it).  His country count is now up to eight, having lived and worked across the US, Caribbean, Middle East and Central America, including island living in Cayman Islands, St. Kitts & Nevis, and San Pedro, Belize, following his time in Switzerland.
While progressing in his hospitality career he chose to focus on a food and beverage path, which led to stints on multiple pre-opening hotels and provided him the opportunity to participate in the development and marketing of concepts, including restaurants.  This focus on effective and successful project management has proved invaluable on Lanai, where continuous capital improvements are an integral part of the island environment.  Phookan shares, "About 60 percent of my time is devoted towards fine-tuning the components that make up the special feel and experience of our guests staying with us. My background with hotel openings allows me to lead with a passion for a superior physical product in the Pacific."
He states his favourite part of the job is being an "innkeeper," which entails balancing the various facets of the island's operation yet having the constant curiosity and drive to keep moving the overall product forward.
While the island of Lanai is small, with about 3,000 residents, the community's culture and a dedicated Love Lanai team at the Resort committed to preserving and sharing its rich heritage was appealing as a destination for his family, and he welcomed the chance to live and learn in an authentic way.  His journeys around the world, in culturally contrasting regions helped build important skills in the workforce, strengthening adaptability, enhancing communication, recognizing diverse talent among others.
His other passion is in the area of sustainability and supporting brand and property ESG efforts. A proud member of the Resort's Green Team, he looks to drive sensible and impactful initiatives across Lanai with the participation of employees, local residents, and guests alike.
Phookan's home in Lanai City with his family that includes wife Bhargavi and Siberian Husky "Elon Husk," both of whom love the weather and terrain of Hawaii, particularly good for exploring the unmarked trails of the island.