Back to Main
Four Seasons Hotel London at Park Lane
Hamilton Place, Park Lane, London, W1J 7DR, England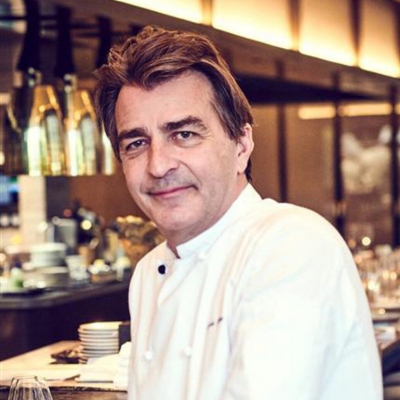 Yannick Alléno
Consulting Chef
Chef Yannick Alléno is widely regarded as one of the world's finest chefs, holding 15 Michelin stars across his 14 restaurants around the globe. He is known for reinventing modern French cuisine and creating a truly personal cooking style. His dishes are rooted in traditional gastronomy but evolved through contemporary techniques and his relentless creative curiosity.
From a young age, Yannick Alléno was immersed in the bistro run by his parents, and it was his grandmother who taught him to cook. By age eight, he'd set his sights on becoming a chef. These early experiences with his family nurtured his passion for sharing and conviviality.
Embracing the culinary heritage handed down by Auguste Escoffier, Chef Yannick takes the fundamentals and transforms them to create a unique interpretation. He celebrates traditional sauces but uses extraction, fermentation and cryoconcentration to capture the quintessence of the flavours, just as a perfumier balances fragrances. 
In 2008, he founded the Group that bears his name and quickly expanded internationally. The Yannick Alléno Group is a talent accelerator that reaches new gastronomy and service heights, giving customers an extraordinary plate and a memorable experience.
In 2008, he opened 1947 at Cheval Blanc, Courchevel. In 2014 he acquired Pavillon Ledoyen on the Champs-Elysées and went on to make it the most-Michelin-starred establishment in the world with the opening of Alléno Paris, Japanese sushi counter, L'Abysse, and the first ever Pavyllon. In 2022, he opened a second Pavyllon in the Hotel Hermitage Monte-Carlo. And in 2023, he finally brought the casual concept of Pavyllon to a thankful London.