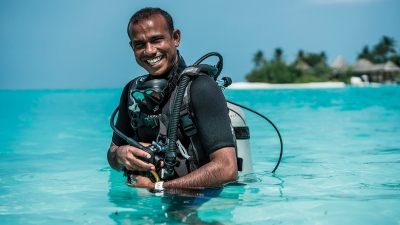 Ibrahim Nazeer
Dive and Recreation Manager
"I still remember my first dive. It was so beautiful, like an underwater garden in a completely different world. I was so happy I knew that was where I wanted to be, and most of all I wanted to share it."
Four Seasons Tenure
Since 1994
First Four Seasons Assignment:  Ground and Landscaping Attendant – HPL for Four Seasons Kuda Huraa
Employment History
Four Seasons Resort Kuda Huraa
Birthplace
Kaafu Huraa, North Male Atoll, Maldives
Languages Spoken
Ibrahim Nazeer – like many young Maldivians – was raised to be afraid of the ocean. "My mother told us stories about sea monsters to keep us away from the water," he recalls with a smile. Job opportunities for local school leavers were scarce at the time, so when construction began on the Maldives' first 5-star resort adjacent to his home island, 16-year-old Nazeer went seeking work.
Clearing vegetation and preparing food for the construction team by day, he'd spend his evenings learning how to use the small loaders on-site, until he was soon involved in building the Four Seasons Resort Maldives at Kuda Huraa from the ground up. Ever eager to try different things, he took every opportunity to continue learning when the Resort opened: "Laundry, housekeeping, kitchen stewarding, service – I tried them all."
The same eagerness propelled him into diving. Keen to engage with guests about their underwater experiences, he began helping out at the Dive Centre in his spare time. And when staff were offered the chance to complete their PADI Open Water, he was the first to sign up; it was love at first dive.
A place on the Four Seasons Apprenticeship Program to complete his PADI Dive Master soon followed; then on the team tasked with identifying dive sites and cruise routes for the newly acquired Four Seasons Explorer. "It was a real adventure that showed me so much of my country," he recalls. "I also saw my first whale shark – still one of my best diving moments."
In a career of more than 10,000 dives, his favourite memories involve meditative moments – mostly with sharks. There was the time in Ari Atoll when he descended through a wall of fusilier fish to discover 15 majestic grey reef sharks waiting below. "I just sat and watched them. It's the best way to relax your mind. It's also why I love slow-moving bottom-dwellers such as nurse sharks so much," he muses.
Now a PADI Master Instructor, Nazeer places huge emphasis on building relationships and safeguarding his team and clients. He also loves helping others overcome their fears. "Experience is key," he says. "Mine – to earn their trust – and theirs, to see first-hand that there's nothing to fear." His experience and knowledge of the local waters also affords his clients access to a whole swathe of secret gems beyond the better-known local dive sites.
Nazeer is quick to praise his expert team: positive and popular fellow Maldivian, Musab; Tony from China – a kid at heart and great with youngsters; Bart from Germany, whose firm tutelage makes him perfect for serious courses; Shaan, another Kuda Huraa stalwart, who keeps everything in pristine order; and Ilham, who Nazeer describes as "the backbone of the Dive Centre."
Together, they also work closely with Kuda Huraa's Reefscapers team to protect and boost the corals around the Resort. "I'm so proud to be a part of this Four Seasons family," he concludes. "It's something I could never have imagined when I first sailed to the island looking for work, more than 25 years ago!"