Back to Main
Four Seasons Resort Maui at Wailea
3900 Wailea Alanui Drive, Wailea, Maui, Hawaii, 96753, U.S.A.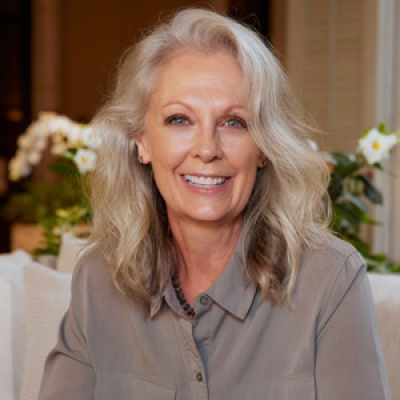 Pat Makozak
Senior Spa Director
"People want to talk, to express themselves, and they want us to put together a magical experience that meets their expectations and guides them toward relief and comfort."
Four Seasons Tenure
Since 2004
First Four Seasons Assignment: Spa Director, Four Seasons Resort Maui at Wailea
Employment History
The Peninsula Beverly Hills, California, USA; television and stage actress
Birthplace
Education
Master of Fine Arts, Graduate Theatre Program, New York University; Massage Therapy Certificate, Pacific School of Healing Arts, Gualala, California
Languages Spoken
The road to renewal can be long and winding, yet the potential rewards make it worth the trip. Few have travelled that road farther or more successfully than Pat Makozak, senior spa director of Four Seasons Resort Maui at Wailea.
Born in Micronesia, where her father, a U.S. government agricultural specialist, was teaching islanders to grow bigger coconuts and to neuter fruit flies, Makozak grew up on an Indian reservation in Washington State before pursuing an acting career in New York. "I did okay," she says, noting stage and soap opera roles as well as a turn as Richard Burton's first wife in a TV miniseries on Elizabeth Taylor. "I still receive residual cheques, sometimes for less than the postage on the envelope."
Along the way, Makozak discovered that the physicality of acting has the power to release deeply stored emotions and memories, as well as the revelations that accompany them. "I witnessed some very interesting things during my training, both within myself and others. We all have information stored within that can be expressed through physical release." Sensing a calling, she turned her focus to the healing arts and launched a successful massage therapy practice in Beverly Hills with a largely celebrity clientele.
When the Screen Actors Guild strike of 2000 put the squeeze on her practice, Makozak slid into hospitality. Her timing was perfect, catching the rising tide that has now washed a spa into nearly every upscale hotel and resort.
During five years in Maui, Makozak has crafted an experience that celebrates the restorative power of nature. Her menu partners indigenous therapies with high-tech alternatives to cosmetic surgery. "With a location abundant in natural beauty and native culture," she says, guests can experience lomi massage in authentic thatched-roof hale as well as take treatments in the ocean or by the pool. "The warm embrace of 'aloha' draws our guests to us, and even though we offer a variety of indigenous experiences, many of our guests don't always want to get out of their lounge chair."