Back to Main
Four Seasons Resort Maui at Wailea
3900 Wailea Alanui Drive, Wailea, Maui, Hawaii, 96753, USA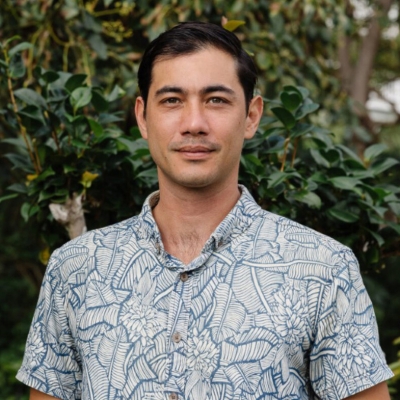 Taylor Fujimoto
Sustainability Manager
"As a steward of Hawaiՙi, I am excited to develop innovative programs that educate guests of all ages and employees about the importance of the island's environment so that we can work together to preserve it for generations to come."
Four Seasons Tenure
Since 2022
First Four Seasons Assignment: Current
Employment History
Hawaiʻi Nature Center; Surfrider Spirit Sessions
Education
Bachelor's degree in Environmental Studies, University of San Francisco
Birthplace
Long Beach, California, USA
Languages Spoken
As the first Sustainability Manager for Four Seasons Resort Maui at Wailea, Taylor Fujimoto aims to be a guiding force for helping to shape sustainability in hospitality on the island of Maui. Since joining the team in 2022, Fujimoto has led the charge in shepherding in new programs that seek to protect and preserve the natural resources of Maui for future generations to come. His work so far includes the development of a new composting program and a Chef's Garden Club, designed to help young guests understand the origins of food, as well as a forthcoming comprehensive food waste audit and circularity glass program for recycled glassware.
Born in Long Beach, California, Fujimoto moved to the island of Oՙahu when he was 15 years old. A return to his roots, Hawaiՙi being the home of his grandparents, he was quickly drawn to the ocean and the allure of the island's landscape. He went on to earn a degree in Environmental Studies from the University of San Francisco before searching for opportunities through which he could impact the future of our planet in a meaningful way.  
Returning to the islands in 2012, Fujimoto most recently served as the environmental education program manager at Hawaiՙi Nature Center for the past four years, Fujimoto fostered awareness, appreciation, understanding, and stewardship of Hawaiՙi's environment by educating children with an interactive and immersive approach. He was also in charge of creating classroom and field-based curriculum surrounding Hawaiՙi natural history, climate change, and environmental science systems.
"As a steward of Hawaiՙi, I am excited to develop innovative programs at Four Seasons Resort Maui that educate guests of all ages and employees about the importance of the island's environment so that we can work together to preserve it for generations to come."
When Fujimoto is not at the Resort, he can be found out in the water surfing or exploring one of Maui's many beautiful hiking trails.