Back to Main
Four Seasons Resort Maui at Wailea
3900 Wailea Alanui Drive, Wailea, Maui, Hawaii, 96753, U.S.A.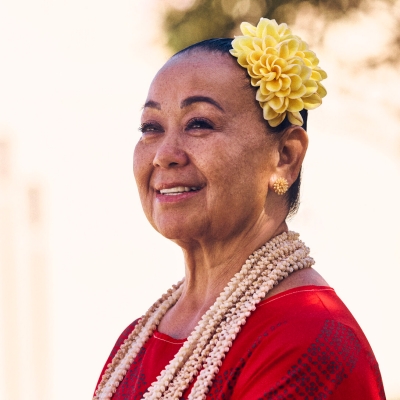 Wendy Tuivaioge
Director of Hawaiian Programs
"My kuleana, or responsibility, is to share the Hawaiian culture and help our guests and employees feel the aloha spirit."
Four Seasons Tenure
Since 2011
First Four Seasons Assignment: Concierge
Employment History
Hotel Wailea, Wailea Point
Birthplace
Education
Kamehameha Schools, Kapalama Campus
Languages Spoken
She is known by guests as simply "Aunty Wendy."
A trained hula dancer and chanter, Aunty Wendy has been immersed in Hawaiian culture since she was born. "I got my foundation in culture from home. My parents and grandparents instilled Hawaiian values into everything we did," she says.
After moving to Maui more than 30 years ago with her husband, her history in the tourism industry began when a friend recruited her to work at the exclusive community Wailea Point. Then, she worked her way up to management at Hotel Wailea, before joining the concierge team at Four Seasons Resort Maui in 2011. As concierge, she was known as the go-to person for employees and guests for cultural questions. She took on the newly created role of Director of Hawaiian Programs in 2019.
Now, Aunty Wendy takes pride in curating the Resort's May Day, Kamehameha Day, and Aloha Week festivities, and oversees weekly cultural activities such as lei making, palm frond weaving, and hula dancing lessons. She is often spotted around the Resort with her basket and scissors sourcing flowers for the lei classes. She also facilitates new employee trainings on the Hawaiian sense of place.
"I believe it's my kuleana, or responsibility, to share the Hawaiian culture and help our staff and guests learn more about this special place I get to call my home," she says. "When our guests leave feeling the spirit of aloha, it makes me happy."
Hula is a significant part of Aunty Wendy's life. She has danced with Halau O Ka Hanu Lehua since 2012, and before that, was a leader and chanter in Halau Ka Makani Kiliʻoʻopu for 17 years. She also enjoys reading, travel, and continuing to learn more about the Hawaiian culture. A self-described "Hawaiian hoarder," she loves to collect anything Hawaiian, especially lei, lauhala, and kapa.
She is on the board of directors for Kamehameha Schools Alumni Association - Maui Region, and part of The Kaahumanu Society, the oldest Hawaiian royal society in the state. She is a member of the Keolahou Congressional Hawaiian Church, and resides in Central Maui with her husband.