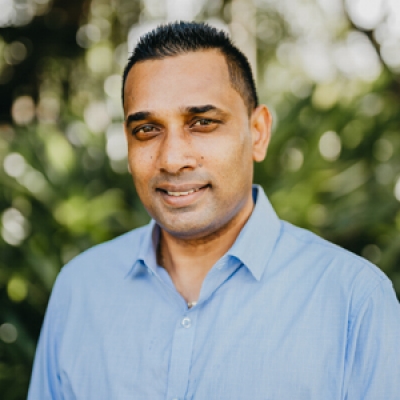 David Iyapah
Bar Manager and Head Mixologist
"The perfect cocktail is more than a drink; it's a moment that you'll always remember."
Four Seasons Tenure
Since 2018
First Four Seasons Assignment: Current
Employment History
Mauricia Beachcomber Resort & Spa, Mauritius, Sands suites Resort & Spa, Mauritius, Hilton Mauritius Resort & Spa, Mauritius, The Westin Turtle Bay Resort & Spa, Mauritius, Salt of Palmar, Mauritius
Birthplace
Languages Spoken
English, French and Mauritian Creole
Affable by nature, David Iyapah is Bar Manager at Four Seasons Resort Mauritius at Anahita, where each day he imparts his knowledge about mixology and locally distilled spirits to refine the beverage experience at the property. With 15 years of experience in the Mauritian cocktail scene, his specialty is crafting cocktails with native liquors and local exotic fruits, paired with beautiful presentation. "Mixology is an exciting discipline that combines an appreciation of classic cocktail culture with the desire to create new cocktail recipes with a forward-thinking approach," says David.
"A significant portion of a barman's job is spent behind the scenes creating new craft cocktails and putting a signature twist on existing favourites, but for me, beyond the creativity of the role, one of my favourite parts of the job is getting to know our guests and helping them find their perfect drink – whether that's a traditional classic or involves exploring Mauritius' native liquors."
Born and raised in Mauritius, David discovered his passion for cocktails while working part-time as a barback to support his university studies. Having no experience in hospitality and poised to be an accountant, David always looked up to the bartenders in their crisp white shirts and black ties, always the centre of attention and the beating heart of the bar. "I made my way from barback to waiter, to finally bartender, while on the way polishing my English and honing my knowledge of spirits and the foundations of building a cocktail." Fast forward 15 years, David is now the Head Mixologist at Four Seasons Resort Mauritius at Anahita, developing cocktail programs tailored to all five outlets' culinary offerings. "Mauritius is filled to the brim with culture. Each ethnicity has crossed oceans and brought with them their knowledge, spirits and native produce, which provides so many fascinating flavour combinations for cocktails," says David.
With the introduction of a brand new lobby bar, Blu'Zil, David and his team had an opportunity to craft the beverage concept from scratch. David's intuitive knack for cocktail making and heavy focus on Old World migrant beverages, such as Dutch genever, West Indies rum and Italian amari, were sure to guarantee a wide variety of both classical and modern beverages on the menu. "It is quintessential for a Resort bar to be centred around rum, seasonal fruits and exciting flavours," says David. "It was my intention that the depth of choice in the menu combined with the team's desire to connect with guests would bring an element of fun to the bar and allow guests to embrace their Mauritian surroundings in a relaxed, vibrant atmosphere."