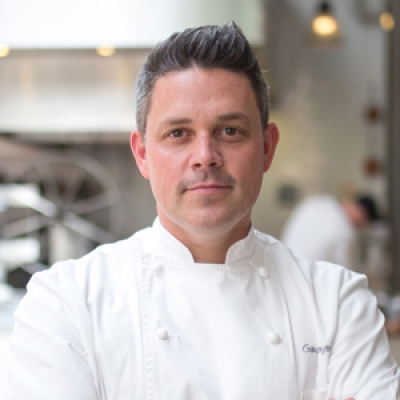 Gavin Kaysen
Consulting Chef and Restaurateur
Gavin Kaysen is an award-winning chef known for his nationally recognized group of Minneapolis restaurants, including Spoon and Stable, Demi, and Bellecour Bakery at Cooks of Crocus Hill, as well as his leadership in the culinary profession.
From his earliest hospitality jobs in Minnesota, Gavin knew he wanted to become a chef. After graduating from the New England Culinary Institute, he worked around the world: for Robert Curry at Domaine Chandon in California, Marco Pierre White at L'Escargot in England, and at Auberge de Lavaux in Lausanne, Switzerland, where he met his wife, Linda. He found a home under Daniel Boulud in New York City, working his way up to Executive Chef and Director of Culinary Operations, where he was recognized as one of Food & Wine's "Best New Chefs" in 2007. It was in this role that he opened Café Boulud at Four Seasons Hotel Toronto, beginning the lifelong respect for and connection to a similarly values-driven hospitality brand.
Ready to raise his two children outside of New York City, Gavin and his family moved to Minneapolis in 2013, where he founded Soigné Hospitality and opened his first restaurant, Spoon and Stable. For his impact in the region, he earned the "Best Chef: Midwest" award from the James Beard Award Foundation in 2018.
He has since opened Demi, an intimate 20-seat tasting menu experience, and Bellecour Bakery at Cooks of Crocus Hill, which serves an array of French bistro-inspired pastries, desserts, sandwiches, and more. In partnership with Chef Andrew Zimmern, he created KZ ProVisioning to fuel professional sports teams in Minnesota, including the Minnesota Wild, the Minnesota Timberwolves, and the Minnesota Lynx. In October 2020, Chef Kaysen launched GK at Home, a virtual cooking class series to share recipes and techniques for every level of home cook.
Gavin's vision to create a more professional work environment for hospitalitarians has inspired activism in the local community and change on a national level through his involvement in the Independent Restaurant Coalition. For his own team, he serves as the co-founder of Heart of the House Foundation, a non-profit created at the start of the pandemic to sustain the growth, health, and prosperity of the Soigné Hospitality family now and in the future.
Having represented the United States as a young chef in 2007, Gavin now serves as the President of the ment'or BKB Foundation Team USA where he collaborates with two of his mentors, and the world's most celebrated chefs, Daniel Boulud and Thomas Keller, with the aim of supporting the next generation of young culinarians.
Gavin comes full circle with his latest restaurant and café, created in partnership with Four Seasons Hotel Minneapolis. "When I lived in Switzerland, I would take the train to Southern France and spend time in areas around the Mediterranean Sea. I'd see families and friends connecting over a meal and sparking conversation and I fell in love with the lifestyle and the cuisine of the small villages. I've dreamed of opening a restaurant with roots in the region and I'm grateful to partner with Four Seasons to make this happen. It's a brand that evokes travel, curiosity, and craftsmanship - all of what I remember when I think of that time in my life and the adventures I had there. I still have my journals from those moments and I've tapped into them when thinking about the design, the menu, and the overall experience."