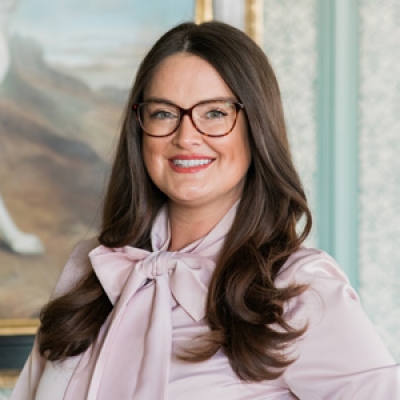 Jessica Tober
Senior Events Sales Manager
"Each wedding is unique; a chance to get to know the couple and learn their story, taking these elements and creating a beautiful union, full of emotion, of the two families is so intriguing to me."
Four Seasons Tenure
Since 2010
First Four Seasons Assignment: Four Seasons Resort and Residences Vail
Employment History
Four Seasons Hotel Hampshire; Four Seasons Hotel Denver; Four Seasons Resort and Residences Vail
Education
University in North Carolina at Charlotte
Birthplace
Languages Spoken
When it comes to her career, Jessica Tober, Senior Events Sales Manager at Four Seasons Hotel Minneapolis, has a goal: never stop growing. So when the opportunity arose to open a new property in the Twin Cities, she leaped. "I always want to be learning, exploring and getting to know new people," she says. "It's the collaboration with everyone that's the most exciting part."
Jessica's career path has incorporated many elements of the wedding and events experience. She worked in the food and beverage realm at Four Seasons Resort and Residences Vail, then moved into restaurant management at Four Seasons Hotel Denver. It was here that she met her now-husband Stephen Tober — Executive Sous Chef at Four Seasons Hotel Minneapolis — and they joined the team at Four Seasons Hotel Hampshire, where as the Wedding Events Manager, she planned and executed dream events in the English countryside.
Her experiences in the industry have helped her hone one of her most important skills: how to truly connect to a guest and listen well. "You have to pull out their needs to help articulate their vision and then help them build it," she says. "You also have to connect with their parents and loved ones. It's a special day for them too!"
Jessica's ability to connect with her clients helped her through 2021, when her wedding roster was packed with rescheduled weddings due to the pandemic. "Some of these weddings had been postponed two or three times," she says. "We were working with these couples through such an emotional few years, and I really got to know them and helped see them through to the end."
For Jessica, that ending includes a memorable moment: the last dance. "That final song on the dance floor, when the couple leaves at the end of the night and know there were so many happy moments of laughter and tears of joy. It feels like a success," she says.
When Jessica's not checking off a detailed event to-do list, she can be found getting lost in the great outdoors with Stephen and her two Australian cattle dogs as they forage mushrooms, plants and flowers and take in Minnesota's abundant nature. Post-hike, she enjoys sipping a glass of wine while she and Stephen cook meals together using their newly foraged ingredients.