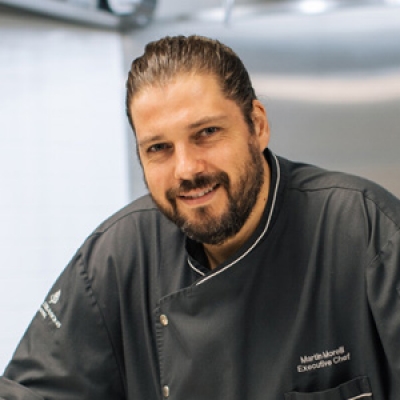 Martín Morelli
Executive Chef
"I believe in craftsmanship, the delicacy of choosing the right ingredients and the patience and time we invest to do it right."
Four Seasons Tenure
Since 2003
First Four Seasons Assignment:  Kitchen Apprentice, Four Seasons Resort Carmelo (formerly a Four Seasons hotel)

Employment History
Four Seasons Hotel Palo Alto; Joya Restaurant in Palo Alto; Four Seasons Resort Costa Rica; Four Seasons Resort Carmelo (formerly a Four Seasons hotel)
Education
Escuela superior de Hoteleria, Gastronomia y Turismo, Universidad del Trabajo del Uruguay
Birthplace
Languages Spoken
Executive Chef Martín Morelli joined Four Seasons Hotel Minneapolis in February 2022, bringing with him two decades of high-level culinary experience. He oversees the signature Italian restaurant and bar on the Hotel's fourth floor pool plaza, in-room dining and all business and social events, while leading the culinary team.
General Manager Florian Riedel, who previously worked with Martín in Palo Alto, noted the indelible impact of Martín's leadership, saying, "Martín not only continuously develops himself, but also everyone around him. He creates comradery, collaboration and ultimately an incredibly strong team."
Martín's career began in his home country of Uruguay, following his graduation from the Escuela Superior de Hoteleria, Gastronomia y Turismo at the U.T., as the Commis Chef at the former Four Seasons Resort Carmelo. From 2003 to 2010, Martín dedicated his time to the resort, where he worked in such culinary roles as Commis Chef, Demi Chef de Partie, and Chef de Partie.
Martín was the Chef de Partie at Four Seasons Resort Costa Rica at Peninsula Papagayo for more than two years. He then served as Sous Chef and Chef de Cuisine at Joya Restaurant in Palo Alto. After more than a year, he accepted the position of Sous Chef at Four Seasons Hotel Palo Alto and grew in his role to Chef de Cuisine and Executive Sous Chef before being promoted to Executive Chef in 2017.
While leading the culinary team at Four Seasons Hotel Palo Alto, Martín redesigned the focal point of the main dining room and the menu itself when he introduced dry-aged meat and steaks. He also brought an elevated food and beverage experience to the Hotel's lobby, launching a coffee shop by day, wine bar by night. Praised for his passionate leadership and innovating thinking, Martín is on the forefront of trendy concepts as well as sustainable practices, such as local sourcing.
Originally from Montevideo, the arts and culture capital of Uruguay, Martín has always had an appreciation for avant-garde techniques while remaining loyal to his minimalist culinary roots. His innate creativity and enthusiasm for experimentation has led him through various kitchens in South, Central and North America. Martín artfully executes innovative menus showcasing the culinary vibrancy of the region.
When not in the kitchen, Martín enjoys spending his free time with his wife, Noelia, and their two children, Matías and Olivia. Whether hiking, camping or grilling, they love to explore and enjoy the beauty of the outdoors together.