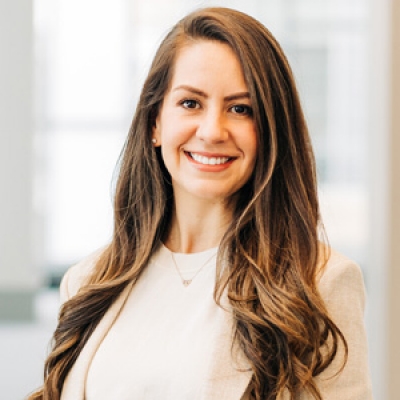 Noelia Roblero
Director of Events
"Every experience we create has to be different and unique. Our clients have worked hard to be able to hold their event at Four Seasons, and that's all the more reason for us to get things perfect."
Four Seasons Tenure
Since 2007
First Four Seasons Assignment: Rooms Division Intern
Employment History
Four Seasons Hotel Silicon Valley at East Palo Alto; Four Seasons Resort Costa Rica at Peninsula Papagayo
Education
Bachelor's Degree, Hotel and Restaurant Management, Universidad Latina de Costa Rica
Birthplace
Languages Spoken
English, Spanish, some Italian
"Every client says they don't know what they want, but they do," says Noelia Roblero of one of the challenges she consistently confronts and just as readily resolves creating get-togethers to remember as Director of Events at Four Seasons Hotel Minneapolis. The only way to find out what clients really want is to meet and communicate, she continues. "It often takes multiple conversations to understand their needs and passions, but that's no problem. Getting there is what makes what we do so rewarding."
Rewarding, indeed. Creativity is the most reliable trick up Noelia's sleeve. She has many options, from bringing in world-class bands and bold-faced personalities for appearances, to customizing dining and gift designs to dazzle attendees, even contracting mermaid models to swim in the Hotel's sun-splashed outdoor pool as guests mix and mingle on the deck of the largest pool plaza in the city.
Either way, there is no such thing as a cookie-cutter event, she says. "Every experience we create has to be different and unique. Our clients have worked hard to be able to hold their event at Four Seasons, and that's all the more reason for us to get things perfect."
The Minneapolis property unfolds as a canvas for Noelia and her team to make scenes, with 16,000 sq. ft. (1,533 m2) of function space including two ballrooms, all naturally sparkling from city's sunlight. She leads a hard-working, five-member crew including two catering sales managers, all busy keeping tabs on trends, coordinating with first-class vendors, and shaping events.
As with clients, communication is the key to ensuring the team's success as well as recognizing that everyone has different backgrounds and points of view. "We all have strengths in some areas and are developing and growing in others. My aim is to understand what everyone brings to the table and leverage it so we all shine."
Hailing from the Central Valley of Costa Rica, Noelia had always hoped to become a television newscaster, or at least to be writing and delivering news. She started off college headed in that direction, but as soon as she got a look at the course material, she knew journalism wasn't for her. Then one day, her mother surreptitiously left a brochure for a hotel and restaurant school on the kitchen table.  
"I looked at the program and images, and it hit me – this is what I'm going to love to do."
Her timing was ideal: Four Seasons was hiring for its first Costa Rican address along the Pacific at Peninsula Papagayo, and Noelia had an opportunity to meet recruiters at her school. The interviews were "mutually pleasing," she remembers, and she ended up recommended for a management-in-training program, starting at the Front Desk. It was a good perch for her to see various Resort teams in operation, and it gave her an inkling of how building relationships with guests is the most important path to success.  
"I realized I wanted to take the relationships I'd made further, and conference services and events was the place to do that. As soon as an opportunity opened up, I raised my hand and jumped."
Noelia spent five years with the Costa Rica property, departing in 2012 for Four Hotel Silicon Valley at East Palo Alto in California, where she rose to Director of Events and Group Services. The clientele at each were night and day – "mostly incentive groups and parties in Costa Rica, and business and tech executives in Silicon Valley."  
And now? "Minneapolis is somewhere in between, though all its own," she says, noting the Hotel's "very versatile product" with a variety of indoor event spaces including an uncommon complement of five breakouts ­that are good for staging for team building exercises and food-and-beverage surprises to keep programming interesting. The outdoor plaza surrounding the pool can be reserved for private events, as can the Hotel's two restaurants and lounge. "With menus creatively infused by our Executive Chef and Four Seasons-level service, we anticipate quite a bit of demand."
Noelia knows of the talents of Executive Chef Martín Morelli: The two met and married in Costa Rica, transferred together to Silicon Valley, and are now raising two children in Minneapolis where they love to barbecue outdoors when the weather allows, and bundle up and jump right into recreational activities when it doesn't. "The kids want to stay active, and we do, too."