Back to Main
Four Seasons Resort and Residences Napa Valley
400 Silverado Trail, Calistoga, California, 94515, USA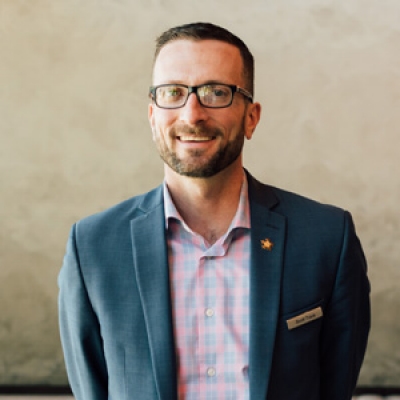 Scott Trace
General Manager, Restaurants
"I'm excited to be back in the most beautiful town in the Napa Valley – Calistoga."
Four Seasons Tenure
Since 2023
First Four Seasons Assignment: current
Employment History
Auberge du Soleil; Stone Brewing; Perry Lang's; Auberge du Soleil; Solage Calistoga; Martini House
Education
Pacific Union College, Exercise Science
Birthplace
South Lancaster, Massachusetts, USA
Languages Spoken
Scott Trace brings an impressive level of expertise to his position as General Manager at the esteemed dining establishments of Four Seasons Resort and Residences Napa Valley: Auro and TRUSS Restaurant + Bar. Trace is ecstatic to dive into a new location to be a part of the destination's ever-evolving and vibrant culinary scene as he admires the region's wine- and culinary-centric lifestyle, filled with breathtaking landscapes, unparalleled gastronomy, exceptional wines, a close-knit community, and countless enriching experiences. In joining this relatively new resort in one of the world's most legendary culinary destinations, Trace strives to find ways to break new ground and ensure that all guests, whether travellers from afar or even the Resort's own residents, have a culinary experience worth remembering.
Trace's passion for hospitality began in 2000 when he began his first role as a milkshake guru at the iconic Taylor's Refresher, now Gott's Roadside, in Saint Helena, California. After some time, he began to focus on a more formal dining setting at a nearby Michelin starred restaurant Martini House. It was at that point Trace knew this was where his passion lied. He then joined Auberge Resorts Collection, where he quickly received several promotions culminating in general manager of the Michelin star restaurant at Auberge du Soleil. Apart from the more formal aspects of dining, Trace shows a great deal of zeal for all things beverages, as he is a talented mixologist who has developed beverage programs at several restaurants.
Outside of work, Trace is a dedicated husband and father who loves to spend time with his three daughters and wife. He is an avid mountain biker and a lover of the great outdoors and sports of all kinds. As a former Calistoga resident, Trace is very happy to return "home" with the Four Seasons team as the General Manager of Auro and TRUSS.