Back
Naviva, A Four Seasons Resort, Punta Mita, Mexico Appoints Eduardo Sampere as New Resort Manager
Passionate outdoorsman and seasoned luxury hotelier to oversee the adult-only tented resort
September 27, 2023,
Naviva, A Four Seasons Resort, Punta Mita, welcomes Eduardo Sampere as the new Resort Manager, now at the helm of the brand's first adult-only tented resort in the Americas, with 15 luxury tents nestled amid 48 forested acres (19 hectares) overlooking the Pacific. With two decades in the hospitality industry and a drive to deliver exceptional guest experiences, Eduardo brings a unique blend of expertise and vision to his new role as Resort Manager. A lifelong lover of the great outdoors who is captivated by wildlife, Eduardo is thrilled to join Naviva, where he can effortlessly marry his two greatest passions – nature and hospitality.
Over his hospitality tenure, Eduardo has worked at a host of different properties, from large corporate hotels to independent boutiques, but he has always gravitated towards roles that granted him more personal connections with people. The ethos of Naviva, awakening the intrinsic bond that humans have with nature and celebrating meaningful community, resonates deeply with Eduardo. His vision for his new role is to engage wholeheartedly with the guests, introducing them to the Mexico they may not know and providing experiences no other Resort can offer.
"Naviva, A Four Seasons Resort is a place where guests are never a number, but always a name. From the moment they step on to Capullo Landing at arrival, they are a part of our Naviva family, encouraged to dive into greater connectedness with themselves and their loved ones, as well as with nature and our engaged team," says Eduardo Sampere, Resort Manager, Naviva, A Four Seasons Resort. "Along our spectacular private peninsula, we thrive on exceeding expectations as we help our guests find inner peace and rekindle their passions for life at this jungle sanctuary, truly as unique as nature itself."
Most recently, Eduardo served as managing director of Islas Secas Reserve and Resort, a luxurious private island escape with an ethos of conservation in the gulf of Panama. He guided Islas Secas following its pivotal grand opening phase, and he will now bring that extensive experience with a newly introduced concept to Naviva. As he guides the Resort into its latest chapter, Eduardo is excited to challenge the team and cultivate a shared sense of honour to be a part of a place as special and sacred as Naviva.
A native of Madrid, Spain, Eduardo began his journey in hospitality in Seville, where he received a degree in Hotel and Restaurant Management at Escuela Superior de Hosteleria de Sevilla. His pursuit of excellence and the desire to broaden his horizons led him to Santa Fe, New Mexico, where he deepened his loves of nature and hospitality. In Santa Fe, Eduardo's career progressed from his first role as a front desk supervisor at El Dorado Hotel & Spa, through several promotions culminating in his position of general manager of alpine ski lodge The Blake at Taos Ski Valley. He then served as vice president of hospitality for Taos Ski Valley, a leading ski resort and year-round adventure destination in Northern New Mexico.
Eduardo and his wife are thrilled to call Mexico home, fulfilling their dreams to live by the beach and raise their two children in a country where they can learn Eduardo's mother tongue. He is fluent in English, Spanish and French, and loves to spend time with his family and their three dogs. A mountain biking and skiing enthusiast, he is excited to embrace his new home in Punta Mita by learning to surf.
---
---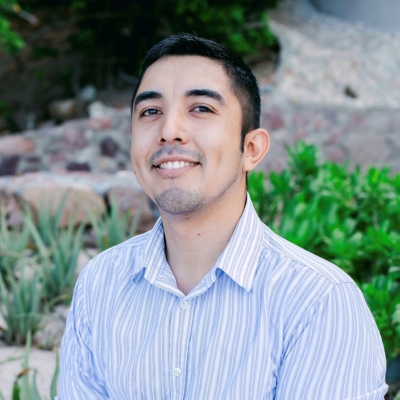 Salvador Macías
Public Relations and Marketing Communications Coordinator

Punta Mita, Bahía de Banderas, Nayarit 63734
Mexico The Point PR
9800 Wilshire Boulevard
Beverly Hills, California 90212
USA
---
Naviva®, A Four Seasons Resort, Punta Mita, Mexico
PRESS KIT
Visit Naviva®, A Four Seasons Resort, Punta Mita, Mexico Website