Back to Main
Four Seasons Resort Nevis, West Indies
P.O. Box 565, Pinney's Beach, Charlestown, Nevis, West Indies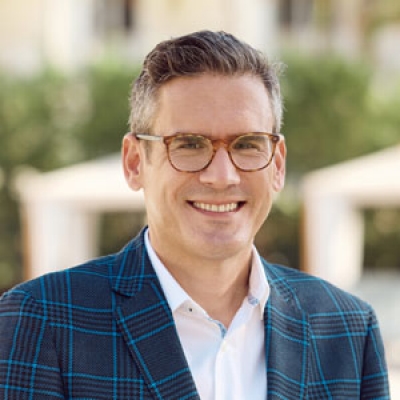 Billy Cueto
General Manager
"The driving force behind keeping our guests happy is a contented team."
Four Seasons Tenure
Since 2001
First Four Seasons Position: Front Desk Agent, Four Seasons Hotel Chicago
Employment History
Four Seasons Resort Palm Beach; Four Seasons Resort and Residences Anguilla; Four Seasons Hotel Los Angeles at Beverly Hills; Four Seasons Hotel Westlake Village, California; Four Seasons Hotel Houston; Four Seasons Hotel Chicago
Birthplace
Education
Bachelor of Fine Arts, Experimental Studies – Painting, Texas A&M University-Commerce; Studied Fine/Studio Arts, Yale University Summer School of Music and Art
Languages Spoken
From one stunning oceanside oasis to another, Billy Cueto joined Four Seasons Resort Nevis by way of Four Seasons Resort Palm Beach. With him, Cueto brought a naturally personable demeanour, creative aptitude, and more than 20 years of experience at various Four Seasons, the only company for which he has ever worked.
Billy brings his versatile experience and talent to Nevis where he imparts his own style to delivering great guest and employee experiences via his motivational leadership style. Billy's great listening skills and vibrant personality have helped him immerse himself seamlessly into the warmth and charm of the Nevisian people and culture.
"Embracing the Nevisian way of life is easy when you are surrounded by the natural beauty of the Resort's coastal location and the innate charm of the storied island," says Cueto. "I am thrilled to be part such a dynamic team known for their exceptional and gracious service."
Proudly born and raised in Omaha, Nebraska, Billy always wanted to see the world. He moved to Texas and graduated from Texas A&M University-Commerce with a bachelor's degree in art. He then joined Four Seasons Chicago at the front desk in 2001. The following year, he moved to Four Seasons Houston where he worked his way through Concierge and front desk, eventually becoming Front Office Manager. His next move was to the west coast in 2011 with several roles at Four Seasons Westlake Village. He was promoted to Director of Rooms there in 2014 before making the move to Four Seasons Los Angeles for several years. In 2018, Billy was promoted to Resort Manager at Four Seasons Resort Anguilla, where he got a taste of island life and gained experience at a beach resort. In May 2021, he moved to Four Seasons Resort Palm Beach as Resort Manager.
During his time at Palm Beach, Billy helped facilitate four property buy-outs, encouraged and motivated his to team to achieve the Forbes 5-star for the 23rd year in a row, navigated the resort through a meeting space renovation and helped contribute to the Resort receiving the Conde Nast award for the "#1 Resort in Florida" for the first time in history. The Resort also ranked in the "Best Resorts in World" at #28.
In his free time, Billy loves to exercise, cook, travel, read and enjoys the arts and culture. He is very interested in the writer John Steinbeck and made a "pilgrimage" to Monterrey, California in 2022, which was Steinbeck's home and the locale for many of his novels. Music is also a passion of Billy's – he was once a drummer in a band, but never got his "big break." Luckily, he found hospitality to be far more enjoyable then being behind a drum kit! Billy loves to sail and lis happy to get back on a sailboat in Nevis.
Cueto holds it as a point of pride that he is a lifer at Four Seasons with no intention of working anywhere else. "I've always been proud that I'm a loyalist. I don't mean to boast, but this is really the best hospitality company to work for."