Back to Main
Four Seasons Hotel New York Downtown
27 Barclay Street, New York, New York, 10007, U.S.A.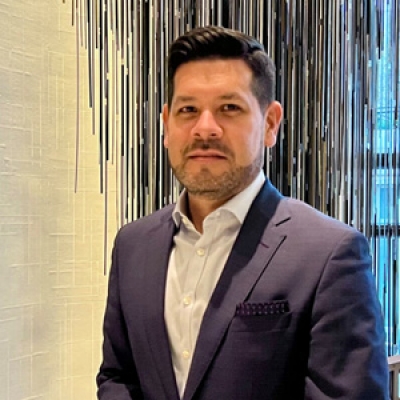 Pablo Molinari
Hotel Manager
"I have always loved working in hospitality. It's my job to make people feel happy and special everyday – what more could you ask for?"
Four Seasons Tenure
Originally in 2001; now since 2021
First Four Seasons Assignment: Bell Captain, Four Seasons Hotel Buenos Aires
Employment History
Hotel Haya, Tampa, Florida; Hewing Hotel, Minneapolis, Minnesota; Park Hyatt, Washington, DC; Hyatt Regency, Albuquerque, New Mexico; Hyatt on Capitol Square, Columbus, Ohio; Hyatt Regency; Toronto, Ontario; Park Hyatt, Toronto, Canada; Four Seasons Hotel Buenos Aires; Park Hyatt, Buenos Aires, Argentina
Education
Hotel Management, Cencap University, Buenos Aires, Argentina
Hometown
Languages Spoken
Originally from Buenos Aires, Argentina, Pablo Molinari has more than 20 years of experience in the hospitality industry across Argentina, Canada, and the United States. Pablo most recently held the title of general manager at the Hotel Haya in Tampa, Florida. He began his hotel career as an assistant front office manager at the Park Hyatt in his hometown of Buenos Aires in 1997.
In 2001, Pablo joined Four Seasons Hotel Buenos Aires as Bell Captain and held that position for more than a year. Pablo's rejoined the Hyatt brand in Toronto, quickly rising from bellman to assistant front office manager and eventually spa director. Pablo continued to work within the Hyatt brand, making his way from Toronto to Columbus, Albuquerque and Washington, DC, where he became the director of operations at the Park Hyatt for three years, achieving the first Michelin starred restaurant for a Hyatt Hotel in North America.
At the start of 2017 Pablo began his tenure with APARIUM Hotel Group as the general manager of Hewing Hotel in Minneapolis from 2017 to 2019 and the general manager of Hotel Haya in Tampa from 2019 on. During his time there, Pablo nurtured company culture along with building a strong local brand identity.
Pablo's storied journey continues with him assuming the Hotel Manager position at Four Seasons Hotel New York Downtown, and bringing a wealth of global experience in hospitality. Pablo leverages his extensive knowledge of the industry to oversee the day-to-day operations and financial success of the Hotel.