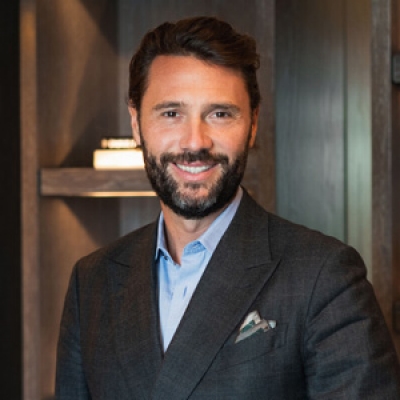 Thomas Carreras
General Manager
"New York is an incredible destination. When I used to visit, I never came Downtown. Now the area is experiencing a rebirth, and I'm proud to be part of it."
Four Seasons Tenure
Since 1999
First Four Seasons Assignment: Management Trainee, Four Seasons Hotel Boston
Employment History
Four Seasons Hotel London at Park Lane; Four Seasons Resort Bora Bora; Four Seasons Hotel Mumbai; Four Seasons Hotel George V, Paris; Four Seasons Resort Punta Mita; Four Seasons Hotel Boston
Home Country
Education
Hotel Administration and Management, Ecole Hôtelière de Lausanne. Switzerland
Languages
Thomas Carreras, General Manager for Four Seasons Hotel New York Downtown, is right where he wants to be as he closes in on two decades with Four Seasons Hotels and Resorts. The Financial District at the southern end of Manhattan has become one of the city's hottest districts, and the towering residential building housing the Hotel – with 189 guest rooms and suites through the first 24 floors, plus a residential component– has added its own heat. "I think the neighbourhood here really needed a hotel that could cater to a more luxurious environment. There are others nearby, but nothing else of our style."
"My role as General Manager is about pulling together the vision of the property and inspiring my team to make it happen," Carreras continues, clicking off everything from the stylish look of the suitably chic staff uniforms to the high-quality products found at retail in The Spa. "It's just like in a book: there's a story line here, and everything has to be consistent with it. We believe in being bold and fearless and allowing our team to challenge the status quo, to be different and to deliver an unparalleled experience to our guests."
Asked to name a standout detail, Carreras doesn't play favourites but points to the arrival experience. "The first thing that strikes me is the energy of our lobby," he says. "It really makes guests feel welcome, and that's what Four Seasons is all about." He's not just talking about design, either. "I visited a lot of hotels when I first arrived in the city, and I noticed that when I walked in their lobbies nobody paid attention to me. Our lobby is cosy and intimate and the welcome we provide is quite special."
Carreras knew early that he wanted to be in hotels. Born in Caracas, Venezuela, his father oversaw a resort for a Spanish hotel group. "When I was five, they asked me what I wanted to do, and to everybody's surprise, I said 'I want to be like daddy," he recalls. "Everybody was always so friendly and attentive where he worked. The gardens were manicured and the uniforms were sharp – like something out of The Great Gatsby."
At his father's suggestion, Carreras gained experience before jumping into the industry with both feet, "doing the hard parts" including laundry service at a hotel in Bali. "He wanted to make sure I didn't get discouraged." Afterwards, again at his father's urging, Carreras studied hotel administration and management in Switzerland. "I began to realise that a hotel is a bit like a clock. On the face, it's very simple - but open it up and there are thousands of little pieces. It's the precision of all those things together that makes a hotel work, and you have be extremely passionate, patient and detailed to attain that precision."
After graduation Carreras worked for a spell at a hotel but became disappointed with bosses who avoided accountability. He landed as a management trainee at Four Seasons in Boston instead. "The company's values were much closer to what I'd grown up with."
Carreras kept going, rising through the rooms division at Four Seasons destinations in Punta Mita, Paris, Mumbai, Bora Bora and London. "I thought I'd be missing something if I focused on restaurants," he recalls. "Rooms are the heart of the hotel. Housekeeping is the largest team; the Front Desk welcomes every guest; and everyone works in a very precise environment. It takes tremendous leadership and coordination to get all of the teams working together to assure perfection."
After holding the position of Hotel Manager at Four Seasons Hotel New York Downtown for two years since the pre-opening phase, Carreras assumed the role of General Manager of the iconic Downtown property in 2018. Carreras has oversight of the entire operation including 189 rooms and suites; 157 Private Residences; The Spa including seven treatment rooms, 75 foot (23 metre) indoor lap pool and 2,000 square foot (185 square metre) Fitness Center; CUT by Wolfgang Puck and almost 7,000 square feet (650 square metres) of meeting space.
Now Carreras finds himself with oversight of food and beverage offerings at Four Seasons Hotel New York Downtown including in-room dining, and 6,815 square feet (633 square metres) of meeting and event space. "After 17 years in Rooms, I love the enthusiasm I see on the food and beverage side. It's not just about perfecting a dish; it's about how much passion you share through the dish."
He also loves the energy of New York City, and spends his time away from the Hotel "discovering, seeing and learning" what "the best city in the world" has to offer, particularly in the restaurant, art and architecture scene. "New York is an incredible destination. When I used to visit, I never came Downtown. Now the area is experiencing a rebirth. I'm proud to be part of it."