Back to Main
Four Seasons Resort O'ahu at Ko Olina
92-1001 Olani Street, Kapolei - Oahu, Hawaii, 96707, USA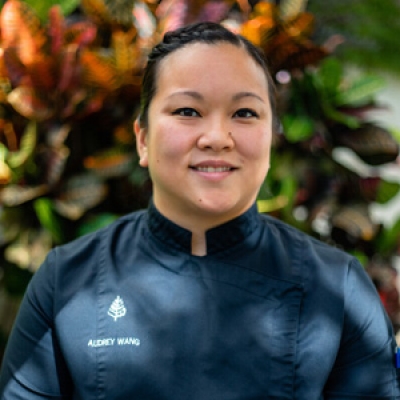 Audrey Wang
Executive Pastry Chef
"Everybody contributes in the pastry kitchen and we all learn from each other, including me."
Four Seasons Tenure
First hired 2008, now since 2016
First Four Seasons Assignment: Spa Intern/Pool Attendant, Four Seasons Hotel Houston
Employment History
Grace, Chicago; Acadia, Chicago; NOMA Restaurant, Copenhagen; Four Seasons Hotel Chicago; Comprehensive Dental Group, Houston; Crestline Hotels & Resorts; Four Seasons Hotel Houston; Houston Country Club
Education
Bachelor's Degree, Hotel, Motel and Restaurant Management, University of Houston; Certificate, The French Pastry School, Chicago
Birthplace
Languages
"Always something rich and chocolate, and always something light," says Audrey Wang, summing up the must-includes on the pastry menus she fashions at Four Seasons Resort Oahu at Ko Olina. As Executive Pastry Chef, Wang has freedom to take sweet offerings in whatever direction she prefers, and that often means consulting her own taste buds. "I like to put things on menus that I enjoy eating – who doesn't?" she continues. "It's all about pushing boundaries while keeping things simple and elegant for guests."
Every outlet at the resort has its own dessert menu, as do in-room dining and banqueting. For Mina's Fish House, Wang lets her imagination roll, drawing from childhood memories, for instance, to create desserts such as chocolate rocher inspired by fancy gold-wrapped Ferrero Rocher candies that she nibbled in her youth, and a lip-smacking coconut panna cotta, with pineapple, toasted coconut, and lime sorbet. "I've always had a thing for very sour, tart-forward desserts that won't put people over the edge."
At the resort's Italian dining experience Noe, Wang likes to transform classics with modern twists to match Michelin-starred Japanese-Italian Chef Ryo Takatsuka's take on Southern Italian cuisine. Her tiramisu comes hidden under shards of chocolate and served with a tableside pour of creamy coffee anglaise, while her artful lilikoi semifreddo has local passion fruit topped with merengue sticks.
Her team also does all the breads and breakfast pastries for La Hiki and Hokulea, working closely with the lead baker to ensure that every item is made to perfection. A lot of effort goes into getting baked goods just right, she says. "Laminating dough takes time: It's not something you have perfected right out of pastry school."
Wang counts herself fortunate to have tight pastry team. "We're really a family with an aloha spirit," she says, admitting that she pushes people to gain all the experience they can while encouraging them make their own creative decisions and even push her back. "Everybody contributes and we all learn from each other, including me. If something isn't right, I'll let them know, but I'd rather let everyone be their own person."
It's a perspective she knows well. Growing up in Houston, Texas, Wang's whole family was in the restaurant business: Her grandparents owned one, as did her parents, and she spent her childhood in both. "They had me bussing tables, and I hated it. But then when I was in middle school, my aunts and my godmother showed me to how to make cupcakes and cookies, and I started baking cakes and pies for friends."
Following high school, Wang proposed going to pastry school, but her parents said no, insisting that she attend a four-year college first. So she chose the hospitality school at the University of Houston, and found out that her parents were right. "If I'd gone to culinary school, I wouldn't have had the discipline I needed."
Wang's first brush with Four Seasons came in her hometown, where she spent six months as attending the Hotel's newly renovated pool. Memories? "Fun and a tan." After a few more turns, including overseeing internet marketing and social media for a dental office, she headed for a "very intense" six-month program at the French Pastry School in Chicago and then joined the local Four Seasons as a pastry cook.
After a few years, she decided she needed a spark and applied to the world's top restaurant. She wrote an essay about the career hazards of complacency and soon enough was bound for a four-month internship at NOMA in Copenhagen, where she saw action at everything from foraging to fermentation, pastries to dinner service. People were weeded out quickly from her class of 15: She was one of just four to finish the program.
Newly inspired, Wang returned to Chicago to work at Michelin-starred restaurants. When a former colleague from one of them landed in Oahu to lead the pastry operation for Four Seasons, she jokingly asked if she needed an Assistant Pastry Chef. "She said, 'As a matter of fact, we do,' and here I am."
Now tanning even more reliably than by the pool in Houston, Wang is still having fun with Four Seasons and enjoying life in Oahu. She likes to take walks on the beach with her boyfriend and two dogs, a "mutt" and an English bulldog. She also enjoys cooking at home, but never baking. "There's a place for everything," she says.