Back to Main
Four Seasons Resort O'ahu at Ko Olina
92-1001 Olani Street, Kapolei - Oahu, Hawaii, 96707, USA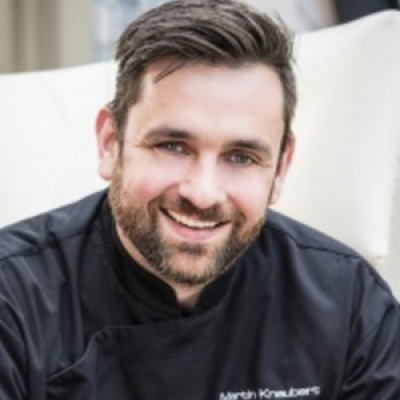 Martin Knaubert
Director of Food and Beverage
"Food needs to be true to itself and relevant to where it comes from. One should be able to smell the soil where the carrot was grown. That's how close it should be."
Four Seasons Tenure
Since 1998
First Four Seasons assignment: Apprentice, Four Seasons Hotel Berlin (formerly a Four Seasons hotel)
Employment History
Ritz-Carlton Chicago (formerly a Four Seasons hotel); Four Seasons Hotel Beijing; Four Seasons Hotel Shanghai; Four Seasons Hotel Damascus; Four Seasons Resort Maui; Four Seasons Hotel Vancouver; Four Seasons Hotel Palm Beach; Four Seasons Hotel Berlin (formerly a Four Seasons hotel)
Birthplace
Education
Studied geography, sociology and anthropology at University of Marburg and University of Berlin
Languages Spoken
Martin Knaubert loves to talk about the dining experiences he has created as Director of Food and Beverage (formerly Executive Chef) of Four Seasons Resort Oahu at Ko Olina. But on the menus, at least, he prefers to let the ingredients do the talking. "I really want the Hawaiian ingredients to speak for themselves so that people can explore the stories behind them," he explains, noting characters in the Resort's culinary narrative including fishermen who ply the Pacific and organic farmers who till the Oahuan soil.
"Too many restaurants here take local ingredients and build the world on top of them," he continues, referencing "surf & turf" and "spaghetti-and-meatball" style restaurants that draw tourists in Waikiki. "I'm on this island to show our guests what Oahu is all about."
Take Noe, the Resort's Italian offering, named for the Hawaiian for "mist" as well as for Knaubert's daughter. With ingredients key to Italian cuisine, Knaubert showcases Hawaiian product in authentic dishes such as seasonal fish baked in salt crust. "The mist that rises as the fish is opened at the table is an expression of Hawaiian culture and the restaurant itself," he says. "You won't find a dish like this at any other Italian restaurant in Hawaii." Nor will guests find anything like the "Golden Liquid" that servers pour on house-made sea urchin pasta at Noe. The original liquid is famed on the Amalfi coast of Italy, but Knaubert preferred to develop his own from sun-dried local anchovies because "it is part of the Hawaiian experience" that he wants guests to enjoy.  
The celebration of Hawaii continues across other Resort dining offerings. At the pan-Asian restaurant Lahiki, authentic dishes from the major Asian cuisines are prepared simply with local ingredients by chefs from the neighbourhood. "The Asian influence in Hawaii goes back generations, so the culture is everywhere," says Knaubert, who has spent a lot of time in Asia, including four-and-a-half years at Four Seasons addresses in Shanghai and Beijing. "I wasn't about to hire a Japanese chef from Japan when I can find talent right here."
For the cool vibe at Waterman Bar & Grill, Knaubert drew inspiration from the north shore of Oahu, where pipeline surfers satiate their ravenous hunger via food truck. "On the beach, they feast on shrimp cooked with tons of garlic or ginger and lemongrass," he says. "What we've done at Waterman is play off the food truck culture and refine it with a Four Seasons touch."
Meanwhile, Knaubert taps local fishermen to provide the sustainable seasonal delicacies served "line-to-plate" at Fish House & Bar. Unexpected catch such as moi and monchong are portioned on platters created by an Oahu artisan from driftwood and kiawe, an otherwise "useless, thorny, reddish wood" originally cultivated by missionaries. One won't find such offerings at other seafood houses in Hawaii, either. "The whole package is authentic, from right here."
Back on dry land, Knaubert was pleased to source many ingredients from Oahu that he hadn't anticipated. One farm grows nothing but asparagus. Another grows nothing but watercress. And an organic farm he discovered 15 minutes from the Resort has all sorts of produce of wonderful quality. Originally created to help the homeless transition to housing, the farm now sells primarily to the community and school lunch programs. "I took one look at what they had and said, 'I'm in.'" When Knaubert asked if the farm produced anything no one else did, he was handed an orange. "On the outside it didn't look like much. But the inside was amazing," he recalls. "No one expects oranges from Hawaii, but now I have an exclusive."
Knaubert experienced the joys of farm-to-table ingredients early, growing up on his grandmother's farm near Germany's border with France and mastering the art of vanilla sauce in her kitchen. Rather than enroll in culinary school he studied cultural adaptability of developing societies at the university level. "My 'culinary calling' finally came while working at restaurants to earn tuition. My inner voice told me to be a 'real chef.'"
He listened and joined Four Seasons in Berlin as an apprentice, the first of several assignments with the company across four continents. While Knaubert has developed much expertise along the way, he has found that culinary skills don't necessarily travel from one destination to the next. All for the better, actually: "Cooking experiences may not be applicable across cultures, but they lead to a complete perspective on food."
Knaubert is glad to be back in Hawaii just over a decade after his first stop as Executive Sous Chef at Four Seasons Resort Maui at Wailea. There, he met his Hawaiian-born wife, Hillary, who attended elementary school just 20 minutes from his current address. His daughter, Noe, was born in Beijing. "Her middle name is Lani, which means heaven, so she's 'Mist from Heaven,'" he says with a smile. "We didn't know we'd end up on Oahu, but here we are. The island and the Resort are part of my story, too."
Click here to see a video about Chef Knaubert.