Back to Main
Four Seasons Resort O'ahu at Ko Olina
92-1001 Olani Street, Kapolei - Oahu, Hawaii, 96707, USA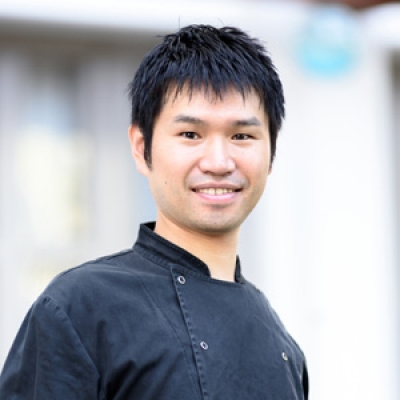 Ryo Takatsuka
Chef de Cuisine, Noe
"I really want all the ingredients to play off each other and yet stand out with great taste. My priority is to bring out the best of each."
Four Seasons Tenure
First hired 2016
First Four Seasons Assignment: Current
Employment History
Ristorante Yamazaki, Tokyo; Restaurant Perbellini, Verona; Ristorante Il Songo di Angelo, La Spezia; La Terrazza, Hotel Eden, Rome; Ristorante Pagliaccio, Rome
Education
Toyamaminami High School, Toyama, Japan; International Academy of Italian Cuisine, Siena, Italy
Birthplace
Languages Spoken
Japanese, Italian, some English
"The thing about Italian food is that it is different in different places," says Ryo Takatsuka, whose educated take on the cuisine of Southern Italy makes all the difference on the menu at Noe at Four Seasons Resort Oahu at Ko Olina. As Chef de Cuisine of the restaurant overlooking a sparkling beachfront and blue Pacific beyond, Takatsuka draws on Michelin-starred experience and local products to spin Italian delicacies that are rooted in tradition but ultimately his own.
Takatsuka's backstory sets the scene for his success at Noe – and quite a story it is. Unlike many Italian chefs, he didn't grow up cooking and eating Italian cuisine, though once he got started there was no stopping him.
Born in a city along Tokyo Bay and raised in another along the Sea of Japan, Takatsuka had few cooking skills until he was handed a home economics assignment in middle school to make Bolognese sauce and write a report about it. "I cooked it at home for three hours – a little less than usual, but it turned out good," he remembers with a laugh. "It was really enjoyable – cooking and eating it – and it sparked an interest."
A few years later, at age 19, Takatsuka took his interest elsewhere, purchasing a plane ticket for Italy and making his way to Tuscany with a drive to learn the art of Italian cooking and the culture upon which it is based. He'd found an Italian culinary school run by a Japanese chef in Siena and spent two months there studying cooking while learning the language.
After a nearly yearlong internship spent honing his new skills in Siena and Pistoia, Takatsuka began searching for kitchen positions and found them first at Giancarlo Perbellini's eponymous restaurant in Verona, then at other settings in Rome and La Spezia. He later returned to Restaurant Perbellini as a sous chef and stayed on for four-and-a-half years, helping the chef/owner earn two Michelin stars. "Everywhere I worked, I kept learning and looking for other places to explore."
Then, after a decade in Italy, Takatsuka returned home to Japan to join Ristorante Yamazaki as chef de cuisine and serve contemporary Italian to rave reviews. Finally, in 2016, a former colleague from Verona, who'd seen his own success at Four Seasons Hotel Beijing, recommended Takatsuka for the Italian offering at Four Seasons in Oahu. "I had the opportunity to prepare a tasting for the Resort's General Manager, and the next thing I knew, I was opening Noe."
The magic Takatuska makes on the menu of Noe is as much about ingredients as his skill at working with them. The island of Oahu offers a profusion of producers to source, and he tries to use as much local product as he can. For instance, he has spun a dish he learned in Italy into kampachi crudo, with kampachi pulled fresh from the Pacific, bottarga imported from Italy, and a melange of local and mainland produce including orange, tomato, artichoke and fennel pieced together with Italian technique plus a distinctive Japanese touch of yuzu oil.
Meanwhile, the truffles for Noe Signature Tagliatelle are imported direct from Italy, as is the parmigiano reggiano. "There's never a problem getting them," he assures. Whatever the dish, the main quality Takatsuka strives for is balance. "I really want all the ingredients to play off each other and yet stand out with great taste. My priority is to bring out the best of each. If something doesn't fit on the plate, I won't include it."
Though Takatsuka says Italian cuisine is generally popular in Hawaii – "mostly the pasta and risotto varieties" – he has noticed that the culture that makes the food shine is "not quite here yet." To that end, he goes out of his way to hire local cooks and train them with the same attention to detail he received in Italy. "A lot of people I bring in don't have the basic knowledge, skill and taste to prepare Italian food properly, so educating them is one of the most important things I do."  
So, too, is spreading the culture outside of the kitchen. In 2019, Takatsuka was offered opportunity to create meals for first-class passengers flying between Tokyo and Honolulu on ANA (All Nippon Airways), which trumpeted the promotion. His four-course menu included a main of beef filet, grilled radicchio and mushroom with balsamic pepper sauce and watercress, and he remembers it as "a very good experience."
He also squeezes in time on the floor of Noe, chatting up guests seated indoors and out as he can. "My first priority is always the kitchen, but it's good to connect as well."
Meantime, Takatsuka always looks back fondly on the support and encouragement he received from his parents when he still a teenager and made up his mind to head to Italy. "They were both office workers, not chefs, so it was as new to them as it was to me," he says, recalling, "They must have really believed in me to let me travel halfway around the world to pursue my dream. Their support really made it possible."