Back to Main
The Ocean Club, A Four Seasons Resort, Bahamas
One Ocean Drive, Paradise Island, Bahamas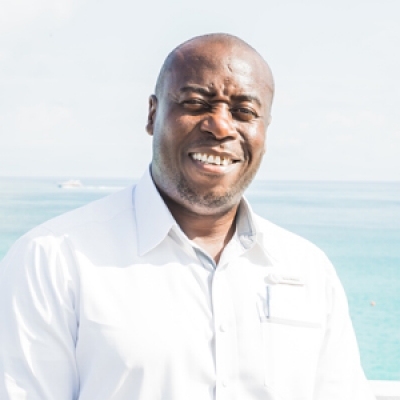 Arvin Wallace
Lead Villa Butler
"At the end of the day, each person who walks through the door is a human being, and that's how they want to be treated."
Four Seasons Tenure
Started at Ocean Club 2006, with Four Seasons since 2017
First Four Seasons Assignment: Current
Employment History
Atlantis, Paradise Island, Bahamas  
Birthplace
Education
Professional Development in Hospitality Management, Atlantis, Paradise Island
Languages Spoken
With three luxurious oceanfront villa residences with private pools and a dedicated service team of nearly a dozen staff between them, Arvin Wallace has a lot on his plate as Lead Villa Butler for The Ocean Club, A Four Seasons Resort, Bahamas. But he knows how to serve it: Exactly as villa clientele desire – and without too much fuss.
"At the end of the day, each person who walks through the door is a human being, and that's how they want to be treated," he says from experience gained over several years at the Resort. Wallace has long since learned to distinguish between guests who desire to be catered to and those who prefer to be left alone. "We don't just leave them entirely alone: We do little things behind the scenes, like leave Champagne and chocolate-covered strawberries in the kitchen. When they know you're offering service, they'll engage you."
Born and raised in the Bahamas, Wallace studied electronics after high school, but had to take a year off to earn money. He took a job as a busser in an Italian restaurant at another resort on Paradise Island – "they hired me to start on the spot" – and later took advantage of development courses in hospitality management offered by the property. "I learned everything from housekeeping to accounting, the back of the house to the front of the house. I know what it is to work your way up."
There was tutelage on being a butler as well. He says the skills required are 65 percent food & beverage and 35 percent common sense, but adds "running the show as Lead Butler is a different thing entirely."
Indeed, the requirements of Wallace's role go beyond refined skills to engagement. He has to keep up with business news and international events; remain composed when VIPs and their fabulous celebrity friends walk through the door; and be able to "read clients" to put together programming they'll enjoy and remember – all while ensuring that every detail of their stay goes off as smooth and dazzling as the water in the pools.
As soon as a guest books a villa, Wallace reaches out to connect, liaising back and forth to line up diversions and secure reservations. "I need to be on top of all the choices that are happening here on the island," he says, noting fishing, boating, sea tours, visits to local art studios, and even just hanging around the resort as popular options. "The choices people make are pretty revealing: I can learn a lot from a phone call."
Likewise with meals and entertainment, which can reach spectacular heights amid the beauty of the villas. "The chef wears the hat," Wallace says of the talent tailoring cuisine as evenings are topped off with live bands, fire shows, and inevitable dancing. "Guests are here to enjoy themselves after all." Most popular is an onsite Junkanoo Parade with dancers in handmade costumes and musicians with instruments celebrating the breadth of Bahamian culture. "Creating experiences is the fun part of my job. Even regular customers who've see it all get a kick out of seeing their guests enjoying themselves."
Wallace's job further includes managing the service team with chef, kitchen stewards, full housekeeping, and three butlers per villa who work in shifts, including the midnight-to-8am butler who is on the spot when things really get rolling. "He could write a bestseller!"
Not surprisingly, Wallace likes to travel on his own – and the more experience he can gain along the way, the better. Strong bonds formed with celebrities and elite guests occasionally result in not-to-be-missed invitations to splashy entertainment and sporting events. "They'll send a private jet for me. Sometimes when I get there, I'll look around and realize I'm the only person working from 9 to 5, and I'll think, 'Here we go!'"
Meantime, Wallace was delighted by Four Seasons role at The Ocean Club. The company has opened a "lifeline of opportunity," he says, noting possibilities for advancement and seeing the world through task force assignments at other properties.
"I work with a very strong crew. What we're doing is a way of life, and that's why we've been so successful," he concludes, adding with a laugh, "sometimes we get to the end of a crazy week and we're like, 'Geez, what just happened?!?!' But all I have to do is look at the ocean from the villas to remember why I'm here."