Back to Main
The Ocean Club, A Four Seasons Resort, Bahamas
One Ocean Drive, Paradise Island, Bahamas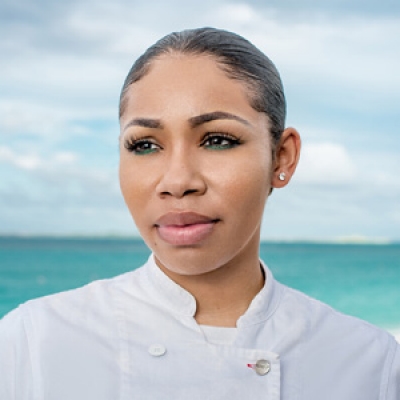 Shaniqua Darling
Chef de Cuisine, DUNE
"Food is everything to me. I eat it, sleep it, live it, and try to show new things."
Four Seasons Tenure
Since 2017
First Four Seasons Assignment: Current
Employment History
Private Chef on yacht; Disney Boardwalk Resort
Birthplace
Education
Associate's Degree, Culinary Arts & Chef Training, Le Cordon Bleu College of Culinary Arts Miami
Languages Spoken
Timing is everything in the kitchen, just as it has been in Shaniqua Darling's career. Recruited by The Ocean Club, A Four Resort, Bahamas, in 2016, Darling spent three years as cooking as Sous Chef at Ocean by the pool. Then Jean-Georges Vongerichten, the Michelin-starred talent behind the Resort's signature dining experience DUNE, got an idea for a pop-up restaurant: Spice by JG. Set on the Versailles Terrace, its Asian-infusion menu was inspired by Vongerichten's former Spice Market in New York City.
"I wasn't supposed to work there," Darling remembers of getting swept up in the pop-up, which ran for just six weeks in spring 2019. As planning for the launch got underway, the Resort's Executive Chef tapped her to help out.
Soon a trainer from New York arrived and gave Darling recipes to work with. She got off to a great start, drawing on her culinary education to grasp French cooking terms in Vongerichten's "exceptionally detailed" recipes in ways others on the team could not. "That impressed the trainer," she remembers with a laugh, "and she was surprised at my cooking. So she asked Jean-Georges 'why isn't Shaniqua working for us?'"
The next thing Darling knew, she was headed north to train for 10 days at 8 Jean-Georges restaurants in Manhattan. It was intense: 12- to 16-hours a day. "But I learned so much!" Indeed, enough to become Sous Chef through the pop-up's six-week run. Afterwards, she joined the team at DUNE, where continued to impress. When an opening for Chef de Cuisine became available in July 2019, she got the spot.
Darling now leads a team of 24, well beyond the 4 she oversaw at Ocean. The challenges are "keep-you-on-your-toes-kind-of challenges," she says. "The cooks are very eager to learn, and they like to pick my brain for what I can teach." She is watchful of technique in the kitchen, and at daily briefings trains on product knowledge, taste, and Jean-Georges' style. "Sometimes we blindfold the cooks as they smell and taste herbs. I want them to know things from the inside."
She needs to know them as well. Distinct from the easy patter she enjoyed with guests at Ocean, there are few opportunities to chat at DUNE where client expectations are "very high – consistency is everything here." She does a lot of tasting, she says. "When I do my rounds in the dining room, for the most part people say the same thing: 'I love to see that a woman is in charge.'"
Born and raised in Nassau, growing up Darling was always in the kitchen helping her mother, who cooked every day. She knew she wanted to be a chef at 13. "The feel for it always came naturally to me." She studied nutrition in high school, then culinary arts in the islands, but lasted only two years. "The curriculum didn't fit me. They were about theory; I wanted to be hands-on doing French and Italian." She found a better fit and earned a degree at Le Cordon Bleu in Miami.
After graduation she did a lot of culinary competitions, winning gold twice at American Culinary Federation-sponsored events. She worked a short stint with a Disney property, and then a turn as a private chef on a yacht, but only for a year. "I came out of that because I wanted to be around other culinarians."
Wish granted. Back in the kitchen at DUNE, Darling's crew follows Jean-Georges' recipes "to a T," though she does have opportunity to put her own spins on dishes, especially with her knowledge of local ingredients. "Sourcing is easy: I always know what's in season."
Though her talent and sunny Bahamian demeanour shine through, Darling credits her passion for getting her where she is today. "I really believe if you're passionate about something, it's going to show, and I think that's what happened when the culinary trainer saw me at Spice." Food is everything to her, she says. "I eat it, sleep it, live it, and try to show new things. When someone actually recognizes the passion I put into a dish, it's very rewarding."