Back to Main
Four Seasons Resort Orlando at Walt Disney World® Resort
10100 Dream Tree Blvd., Lake Buena Vista, Florida, 32836, USA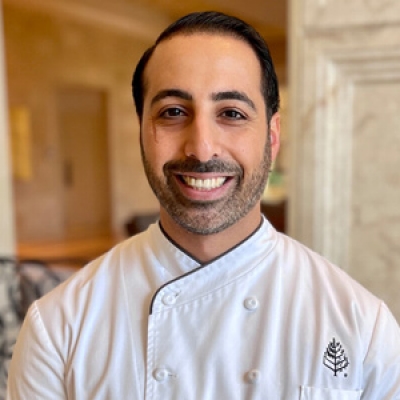 Addnan Ibrahim
Banquet Chef

Four Seasons Tenure
Since 2012
First Four Seasons Assignment: Chef de Partie, Four Seasons Hotel Damascus (formerly a Four Seasons hotel)
Employment History
Four Seasons Hotel at The Surf Club; Four Seasons Resort Orlando; Four Seasons Hotel Houston; Four Seasons Hotel Damascus (formerly a Four Seasons hotel)
Education
University of Damascus, Bachelor's degree in Tourism and Hospitality Management
Birthplace
Abu Dhabi, United Arab Emirates
Languages Spoken
When talking with Banquet Chef Addnan Ibrahim, the first feature one often notices is his big eyes - they are bright, smiling eyes, full of warmth and happiness, yet they are also the eyes of someone who has lived through much adversity.  Ibrahim's personal experiences growing up in the Middle East have contributed to his appreciation of the simple things in life and his passion for excellence. Ibrahim proudly received his American citizenship in 2020, and says he always wants to live and work in the United States, having a true appreciation for the freedoms and securities the country provides.
"I feel so safe here, my family is safe, and this truly is the most important," says Ibrahim. "Ever since first coming to the US, to Houston, I felt blessed to have the opportunities to learn and train with amazing chefs and have the chance to grow in my career. I strive to make my family proud."
Growing up in Damascus, Syria, his grandfather worked as a chef at a hotel in an Italian restaurant, and taught Ibrahim how to make Bolognese sauce and pizza, helping him master two "staples" of Italian cuisine. He realized from a young age that he wanted to be a professional chef. After finishing his studies and working at a prestigious Italian independent restaurant in Damascus, he made his way to the former Four Seasons Hotel Damascus as Chef de Partie for the Italian restaurant Il Circo. There, he learned extensive Italian truffle training in partnership with the chef at Four Seasons Hotel Firenze.  As soon as the opportunity presented, Ibrahim left Syria on a work visa program to serve as a Demi Chef de Partie at Quattro, the Italian restaurant at Four Seasons Hotel Houston, where he was promoted to Chef de Partie after four years. In 2015, Ibrahim joined Four Seasons Resort Orlando, as Garde Manger Chef de Partie. He then took a promotion as Sous Chef for Four Seasons Hotel at The Surf Club in Miami, with an acclaimed on-site Thomas Keller restaurant. After two years, Ibrahim returned to Four Seasons Resort Orlando.
Now, as Banquet Chef at Four Seasons Resort Orlando, he oversees a team of 20 to 30 people, and his primary goal is to make sure the banquet cuisine that is served both tastes phenomenal and looks as appetizing as a restaurant dish would, whether for a small or large scale event.
"Banquet food has typically been known to be very boring," Ibrahim says. "I like to work on the plate-up presentation, elevating the plate presentation with different flavours and style, really enhancing the appearance of the plate that's placed in front of the guest."
A challenge Ibrahim likes is the timing and logistics that banquet events present. "There can be no mistakes when you are working on a scheduled event for 300 people, for instance," he shares. "Banquets are more demanding than working in a restaurant. It requires precision and detail, because you are coordinating. It's my goal to give our clients an elegant presentation, that has a wow factor, yet also has a relatively easy execution."
An expert in Middle Eastern cuisine, known for his tabouli and shawarma, his knowledge of these traditional foods is highly appreciated by the many Four Seasons guests visiting from the Middle Eastern/North African region. However, after training worldwide with some premier Italian chefs, Ibrahim's preferred cuisine to prepare is by far Italian. "Risotto is one of my favourite dishes," he notes.  He also enjoys Mexican cuisine and creating different sauces to enhance the flavour profile of a dish.
When he's not whipping up primo Italian dishes or Middle Eastern flavours of home, Ibrahim loves to watch soccer, especially his favourite team, FC Barcelona. An avid reader, fond of cookbooks, he highly recommends the book Under Pressure: Cooking Sous Vide by Thomas Keller. "It's a magical book—I borrowed it first, then I had to buy a copy for myself!" he adds.
Ibrahim lives with his wife and two young daughters in the Orlando area, and loves treating his girls to special homemade cakes. His bright eyes light up even more when talking about his family. He notes, "One day, I hope to teach my girls how to cook, like my grandfather taught me."