Back to Main
Four Seasons Resort Orlando at Walt Disney World® Resort
10100 Dream Tree Blvd., Lake Buena Vista, FL, 32836, U.S.A.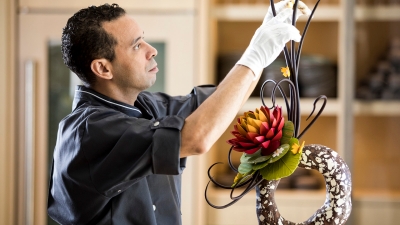 Rabii Saber
Executive Pastry Chef
"The world of sweets is for everybody. No matter your taste, you can always find something on the dessert menu that will make you happy."
Four Seasons Tenure
Since 2010
First Four Seasons Assignment: Executive Pastry Chef, Four Seasons Resorts Lanai
Employment History
The Ritz-Carlton Bahrain; Four Seasons Resorts Lanai; Bellagio Resort, Las Vegas; Greenbrier Hotel and Resort, White Sulpher Springs, West Virginia; Ti Piacerá Restaurant, Madrid; Movenpick Hotel & Casino, Tangier; Hotel Sofitel Diwan, Rabat
Birthplace
Education
Diploma in Hostelry Technique, Culinary Arts, ITHT, Sale, Morocco
Languages Spoken
Arabic, Spanish, French, English


Rabii Saber, Executive Pastry Chef at Four Seasons Resort Orlando at Walt Disney World® Resort, is bringing a touch of the Hawaiian Islands with him to Orlando by way of Four Seasons Resorts Lanai.  In Lanai, Saber loved the abundant fresh fruits available. The same goes for Orlando, offering some of the mainland's finest produce, serving as inspiration for his endless dessert options.  Saber oversees the dessert options for the Resort's five restaurants, in-room dining, and banquet operations.
In Lanai, Saber oversaw dessert menus for nine outlets between two properties, while supplying bread and pastries to small community markets across the island. "There was a huge selection of exotic ingredients to work with in Lana'i, but I had to be very creative to put it to good use."
Saber was born and raised in Morocco, and recalls helping his mother late into the night creating sweets from honey and almonds for morning holiday festivities. Though it was "a little bit nuts for men to be in the kitchen in Morocco those days," Saber kept at it, fashioning cakes for siblings and friends before studying the culinary arts and heading off five-star restaurants across Europe and the US.
His path took a pivotal turn in the mid-'00s when Top Chef Michael Voltaggio offered him a position as head pastry chef at a new restaurant in Los Angeles. His boss at the time, Frederic Monti, a renowned master patissier in his own right, advised Saber to consider his decision. "He told me if I wanted to be a well rounded pastry chef, I should stay in hotels," he recalls. "He was right. There are so many possibilities to take part in, including restaurant plated desserts, banquets, in room dining and special events.  It's great exposure to so many things."

Saber keeps a close eye on new techniques, noting that pastry is a "whole other world" within the culinary arts that demands the exactitude of chemistry rather than dashes here and best judgments there. In 2016, Saber was honoured to participate on the American team for the Coupe du Monde de la Pâtisserie  competion in Lyon, France - known in the pastry world as the "Pastry Olympics."  The selection process to qualify for this prestigious competition involved more than fifty national rounds and four continental selection events in Africa, Asia, Latin America and Europe. In total, 22 teams competed, and the American team placed fourth. 

Like Hawaii, Saber has found Orlando to be a little slice of paradise. "The skies, the trees, the sunsets here are so beautiful, and the perfect backdrop for my photographer wife." And for himself? Passionate about fishing, Saber likes to go Florida bass fishing whenever he can find the time.