Back to Main
Four Seasons Resort Orlando at Walt Disney World® Resort
10100 Dream Tree Blvd., Lake Buena Vista, FL, 32836, U.S.A.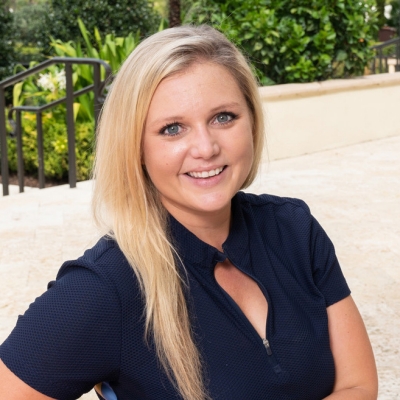 Sarah Peltier
Director of Recreation
"I truly have my dream job - I get to work mostly outdoors in this beautiful climate and focus on creating special memories for the young and young-at-heart."
Four Seasons Tenure
Employment History
Disney Cruise Line, Diamond Resorts, Wyndham Hotels
Education
Bachelor's degree in Public Relations from Central Michigan University
Birthplace
Languages Spoken
When one hears that Sarah Peltier, Director of Recreation for Four Seasons Resort Orlando at Walt Disney World Resort, is the oldest of 13 siblings from a blended household, it all clicks. This is how she does it - the seemingly effortless orchestration of kids' activities, with everyone she encounters practically enraptured by a spell of fun and creativity. Peltier says growing up, at any given time there were at least seven kids in her household, and as the oldest, she naturally became highly involved in coordinating activities and entertaining the bunch.
Peltier's calm presence and always-sunny disposition was undoubtedly honed while being raised in an uber-hectic environment. She realized early on that organization and a knack for coming up with fun, creative activities, was in her blood, and was something she wanted to incorporate in her career. When one of her siblings participated in the Special Olympics, Peltier became involved on the volunteer level, and learned the importance of bonding over teambuilding. "Camaraderie is so essential," she notes.
Prior to joining Four Seasons Orlando, Peltier was on the youth activities and programming team for Disney Cruise Line. There, she worked on board the Disney cruise ships Wonder, Dream and Fantasy, for three years, leading their innovative kids programming. "It was so great to travel extensively through the Caribbean, Pacific Coast, Alaska and the Bahamas," she says. "It was an amazing experience to create special memories with the kids on board."
At Four Seasons Resort Orlando, in addition to working regularly with kids of all ages and overseeing the Resort's Kids For All Seasons program, Peltier also is highly involved with corporate groups that seek the Recreation team's expertise for teambuilding activities. "We launched Group Activities Team Building events on property, from pop-up pickleball and soccer to lazy river scavenger hunts and go-kart relays on the golf course," she notes. "We are a one-stop shop here where families can have a blast, but corporate groups can also let off steam and take a break to reinvigorate."
Numerous companies have realized the benefit of teambuilding, beyond the boardroom. Especially with an increased amount of hybrid workforce, the importance of in-person team building has been spotlighted.   Peltier uses skills learned from the Leaders Shape program she completed while attending Central Michigan University.
"Really, people just like to have fun," says Peltier. "Everyone has the same goal of stepping outside and being creative. Friendly competition is a good thing."
Peltier also loves when given the opportunity to work with group clients on an activity that gives back to the community. "Whether it's creating care packages for soldiers, hospital art, or stocking a food pantry, we're helping the team bond while also supporting the community. We're finding many more businesses are going this route because it feels good to give back, and it is highly social."
Peltier oversees a team of close to 100 Recreation team members across Explorer Island, featuring the Resort's waterpark complete with lazy river, splash zone, sport courts, kids' clubs and more. She notes, "It's truly the people we work with who set us apart. Our Resort amenities are world class, but it's the heart behind our people; everyone has more fun when they love what they're doing.  The special moments of connection go further."
In her free time, Peltier enjoys staying active with her husband and son, frequently found outdoors enjoying the sunshine playing basketball or softball. After years of living through Michigan's harsh winters, Peltier says it's a dream to enjoy Orlando's warm weather year-round and to have the Resort's 5-acre waterpark as her "office."