Back to Main
Four Seasons Resort Palm Beach
2800 South Ocean Boulevard, Palm Beach, Florida, 33480, U.S.A.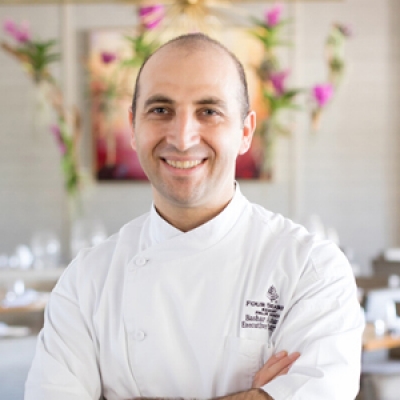 Bashar Shamali
"I always form my best ideas for exciting new products by taking in all of my surroundings and using them as inspiration. I also believe it is important to learn at least one new thing every day and have developed a passion to do so."
Four Seasons Tenure
Since 2005
First Four Seasons Assignment: Four Seasons Hotel Damascus, Assistant Pastry Chef
Employment History
Four Seasons Hotels Istanbul; Four Seasons Hotel Doha; Four Seasons Hotel Beirut; Four Seasons Resort Sharm El Sheikh; Four Seasons Hotel Damascus
Birthplace
Education
Hotel & Tourism Institute of Damascus
Languages Spoken
Arabic, English, some French
Genuine, dedicated and passionate are just a few of the words that come to mind when describing Four Seasons Resort Palm Beach Pastry Chef Bashar Shamali. Known for his smile and positive attitude, Chef Bashar models his work ethic after the Golden Rule, to treat others they was you wish to be treated.
Growing up in Damascus, Chef Bashar would often visit a local chocolate factory after school where at a young age he learned the precision it takes to create delicate pastries. When he wasn't studying, his favourite childhood pastime was preparing family meals by his mother's side. She taught him how to search for the finest ingredients to make the most flavourful dishes. "I was so excited to see firsthand the steps that went into preparing our family meals." Chef Bashar describes, "To then come together and enjoy a delicious meal, it was so much fun to participate and truly inspired me as a child."
Chef Bashar's career at Four Seasons began when he joined the pastry team at Four Seasons Hotel Damascus in 2005, and more than a decade later his Four Seasons journey as led him to Sharm El Sheikh, Beirut, Baku, Doha and Istanbul before moving to Palm Beach in early 2013. As an innovative pastry chef, he accredits his success to his love for art dating back to when he learned sculpting and carving in his brother's workshop. "I love working with clay and colours. Often times when working in our chocolate room, I think of my work as a piece of art reflecting my carving and sculpting skills," says Chef Bashar.
When Chef Bashar isn't creating masterpieces for Resort guests, he can be found spending quality time with his wife Inas and his two children, Sara and Mustafa.