Back to Main
Four Seasons Resort Palm Beach
2800 South Ocean Boulevard, Palm Beach, Florida, 33480, U.S.A.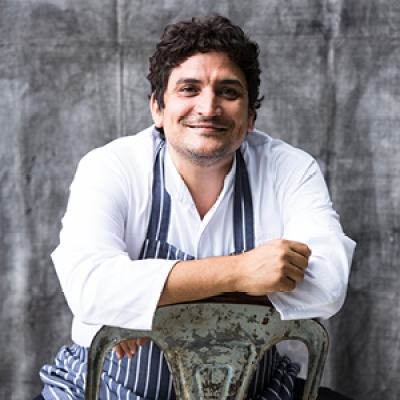 Mauro Colagreco
Chef Collaborator
"Palm Beach is an ideal place for me with all of its similarities to my home in the South of France including the environment, the sun and the sea."
Through his personal interpretations of ingredients and flavour combinations, Mauro Colagreco has forged a style of his own. He has absorbed his Italian-Argentinian cultural heritage and that of the chefs with whom he trained, and now follows his intuition as he draws on the local culture. Colagreco leads 10 restaurants worldwide, including his flagship Mirazur in Menton, which holds three Michelin stars and is ranked third on The World's 50 Best Restaurants 2018 list. In November 2018, Colagreco opened his first restaurant in the United States at Four Seasons Resort Palm Beach with the opening of Florie's.
"I seek out diverse parts of the world to share my cooking philosophy with new communities," says Colagreco. "Palm Beach is an ideal place for me with all of its similarities to my home in the south of France including the environment, the sun and the sea. I am excited for the opportunity to work with Four Seasons, a brand that carries values I hold dear such as excellence in hospitality and ambition."
Mauro Colagreco, who was still a student at the La Rochelle Hotel School, was unknowingly passing by his future first restaurant on this little road between the sea and the mountains that was to take him to Rome.
 A few years later, after working with great French chefs includiing Bernard Loiseau, Alain Passard, Alain Ducasse and Guy Martin, Colagreco decided to open his own restaurant. 
Attracted particularly by Spain, because of the language, and by Italy, from his origins, it is finally in Menton, France that he settled, at the Italian border.
Colagreco established Mirazur in 2006, and in less than a year, he earned his first Michelin star followed by his second in 2012. It was in 2009 that Mirazur officially became one of the best restaurants in the world and continued to work its way towards the top of the list, hitting number three on the 2018 list.
Nadim Ashi, founder of Fort Partners and owner of Four Seasons Resort Palm Beach, tapped Colagreco to bring his vision for memorable dining at the Resort to life, rivalling some of the best culinary destinations in the world. Florie's menus are inspired by Colagreco's Mediterranean spirit, multicultural background and international vision, and are centred on live fire cooking. His instinctive cuisine is rooted in using the freshest, hand-picked ingredients transformed as little as possible and prepared in natural presentations.
"I consider myself to be a chef without borders - always pushing myself to experience new ingredients, new flavours and regions of the world - which is why I wanted to come to Palm Beach. The Island's coastal environment and exceptional Florida produce are perfect for my cooking. My vision for Florie's is to be a destination where locals want to eat every night of the week and guests leave with lasting food memories."
Professional Career
2001: Arrival in France. Trained at the Lycée Hôtelier de La Rochelle
2002–2005: Training with French chefs Bernard Loiseau in Saulieu, Alain Passard, Alain Ducasse and Guy Martin in Paris
2006: Opening of the Mirazur in Menton, where six months later, Mauro Colagreco is named "Revelation of the Year" by the Gault & Millau guide
2007: The Mirazur is awarded its first star in the Michelin guide
2008: The Mirazur enters the top 100 in the World's 50 Best Restaurants list
2009:  Mauro Colagreco is named "Chef of the Year" by the Gault & Millau guide
2010: The Mirazur wins four toques in the Gault & Millau guide
2012: The Mirazur wins two stars in the Michelin guide and Mauro Colagreco is appointed Chevalier des Arts et des Lettres
2013:  Mauro Colagreco is named "Grand Chef" for Relais & Châteaux association
2014: The Mirazur ranks 11th in the "World's 50 Best Restaurants", becoming the highest-rated French restaurant on the list
2016: The Mirazur ranks 6th in the "World's 50 Best Restaurants
2017: Mirazur becomes a member of the Grandes Tables du Monde and Mauro Colagreco appointed Chevalier de l'Ordre du Mérite; in April, Mirazur ranks 4th in The World's 50 Best Restaurant
2018: Mirazur ranked 3rd in The World's Best Restaurant List
2019: Mirazur receives a 3rd Michelin star