Back to Main
Four Seasons Resort Punta Mita, México
Punta Mita, Bahía de Banderas, Nayarit, 63734, Mexico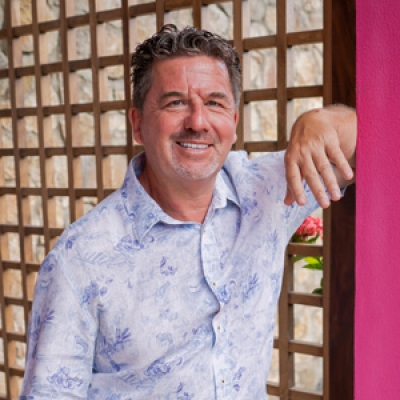 John O'Sullivan
Regional Vice President and General Manager
"Should you decide that running a hotel is a 24-hour-a-day job, that's exactly what it will be. I don't believe it has to be that way."
Four Seasons Tenure
Since 1995
First Four Seasons Assignment: Four Seasons Resort Aviara (formerly a Four Seasons resort)
Employment History
Four Seasons Resorts Bali; Four Seasons Hotel Cairo at The First Residence; Four Seasons Resort Aviara; Forte Méridien Hotels; Forte Crest Gatwick, West Sussex; Forte Grand Castle Hotel, Windsor; Bush Hotel Farnham, Surrey
Birthplace
Education
Hotel Management degree, Shannon College, National University of Ireland; Management Studies diploma, Middlesex Business School, England
Languages Spoken
"It's a huge canvas with so many layers and I'm shining the patina," says John O'Sullivan, General Manager of Four Seasons Resort Punta Mita, Mexico, of the white-sand-and-turquoise-water oasis he has been assigned on the Riviera Nayarit. Indeed, under O'Sullivan's attentive eye the oceanfront address saw the completion of a full redesign of its two private beaches in 2015, enhanced with a new rustic surf shack style beachfront bar, plush swinging day beds and floating lounge pods to create the ultimate luxury seaside escape. A new ocean front Mexican gelateria will debut in late 2015, along with updated culinary offerings for the new year – transforming the Resort's hospitality from linear to enriched.
"My goal is to weave new magic into the existing thread of the Resort, move it forward from a product point of view, and re-emerge as a relevant stakeholder in the community that doesn't lack for competition."
Assured words – and expressive, too, which is no coincidence. A lifelong poet, writer and visual artist, O'Sullivan finds a "duality of purpose" between art and the art of hospitality. "Both share the same bed, in other words," he explains, acknowledging that while the business side of his work for Four Seasons packs tremendous importance, "to be a complete, I need to explore the creative side as well."
And explore it he does. A self-professed "resort guy," O'Sullivan arrived at Punta Mita from Bali, where he had the pleasure of managing two Four Seasons properties simultaneously. Then as now, he approached the job artistically, dreaming up "installation pieces" such as the Beds On The Beach dinner amenity that saw guests stretched out in bed for tapas on the shores of the Indian Ocean surrounded by hundreds of candles and a sky full of stars. He is introducing the same and other, similar experiences by the Pacific.
O'Sullivan fell hard for hotel work while in boarding school in Ireland where, he wryly observes, "there's a law that as long as you don't have an umbilical cord attached you can work." At 12, he got a job cutting the eyes out of potatoes in a hotel kitchen, went on to earn a degree in hotel management, and by 25 was a general manager at an international hotel group. Though focused and driven on his own, O'Sullivan has long made a point to surround himself with creative types who are good at what they do – the better to free him to be creative in his own right, in his own way, and on his own time. "I also don't watch television, so I don't live life vicariously through others."
But live it he does. Beyond his Four Seasons career, which has taken him to Southern California, Cairo and Bali, O'Sullivan has published two books and is at work on a third. He has been invited to read his poetry at literary festivals from Dubai to Henley on Thames, and in 2011 moderated a writerly discussion on "Measuring Happiness" before a healthy crowd at the Singapore Writers Festival. Back in 2009, he was featured in Twin Sons of Different Mothers, the largest installation art show ever held on Bali. "Every piece of art I ever do has a poem that goes with it."
In between departing Indonesia and arriving in Punta Mita, O'Sullivan enjoyed a 13-month sabbatical that saw him hopscotching through 17 countries with his wife and kids while engaging a busy agenda that included mentoring MBA students on how to dream – something he believes many folks have forgotten how to do. "Dreams aren't airy-fairy. They're a beautiful three dimensional form with colours," he says, noting that mentoring is "a two-way exchange of thoughts and ideas" that benefits him as much as his students.
If all of the above weren't enough, O'Sullivan is a passionate advocate of the healing power of spas and the importance of maintaining a healthy body. He knows what of he preaches, playing 9 holes of golf and running at least 30 miles each week, and counting three marathons and four half-marathons completed - so far. "I measure success in life by the number of sunsets I see," he says, warmly. "I average three a week. The rest of the time, I'm working."