Back to Main
Four Seasons Hotel Riyadh at Kingdom Centre
Kingdom Centre, P.O. Box 231000, Riyadh, 11321, Kingdom of Saudi Arabia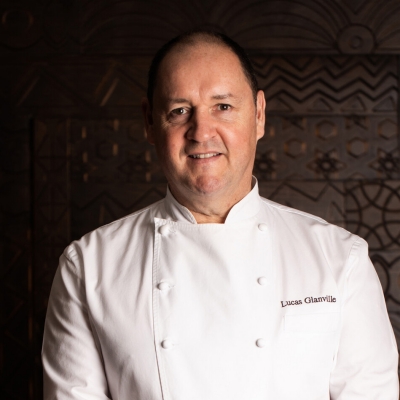 Lucas Glanville
Senior Executive Chef
"A five-star hotel is no different than a small restaurant in a village, we need to talk to local producers to be certain our guests are getting the real deal."
Four Seasons Tenure
Since 2022
First Four Seasons Assignment: Current
Employment History
Grand Hyatt Erawan Bangkok; mezza9 at Grand Hyatt Singapore; Browns Restaurant, Melbourne; La Gavroche, London; Regents Hotels and Resorts, Melbourne
Education
Certificate, Culinary Arts, Slough College of Higher Education, University of West London
Birthplace
Languages Spoken
Lucas Glanville brought more than 30 years of culinary experience to Saudi Arabia, and as Senior Executive Chef of Four Season Hotel Riyadh at Kingdom Centre, he is using every bit of it. "With new restaurants and hotels opening, this is an exciting place for me to be right now," he says of the demands and opportunities of his first post with the company and the regional expansion to which he is now integral. "The Hotel is evolving: First the rooms were renovated, now it is food-and-beverage's turn."
A purpose-driven chef with a passion for working with the best product and a record of success building strong operations that dates back decades, Glanville arrived in Riyadh at a time of growth for the Hotel. The "turn" he mentions includes the launch of three restaurant concepts headed by well renowned chefs from the U.S. and Europe, a development in line with Saudi Arabia's investment in hospitality as the country seeks to draw more tourists to experience cultural and natural wonders across the Kingdom.
Along with lending his expertise and support to the new restaurants, Glanville leads onsite banqueting for business and social occasions in 77,000 square-feet of event space, as well as Le Carré, the offsite catering service for world-class celebrations throughout Saudi Arabia. "It is really impressive – a very large part of our business," he says of Le Carré, which taps the Hotel's diverse team of culinary and event professionals for everything from private residential dinners to gatherings up to 7,000 people. "The planning and coordination that go into creating some of these events is truly extraordinary."
Raised in a "food-focused" family first in Melbourne, Australia, then in the UK, Glanville was inspired to the kitchen by his mother, a "great cook and an avid gardener" who created exceptional meals with seasonal ingredients. He began to consider cooking as a career while still in high school and studied culinary arts in London, then hit the ground running at Michelin-starred La Gavroche in Mayfair. After a turn as sous chef at Browns Restaurant in Melbourne, recognized as the best in the Australia at the time, he moved on to open three successful restaurants in the city.
Then in 2002, Glanville joined Hyatt Hotels in Singapore to lead a restaurant that served an array of authentic Asian and Western cuisines through a multi-sensory kitchen. When the restaurant won awards and renown, Glanville was recruited by a sister hotel in Bangkok where he spent five years reshaping food and beverage experiences, including launching the property's first organic vegetable farm and an offsite catering program.
Upon returning to Singapore in 2010, Glanville was promoted to director of culinary operations. He hit the ground running again, examining food sources with an eye toward enhancing sustainability, redefining the local culinary landscape by offering sustainable, ethical and conscious dining. His work paid off with numerous awards as the hotel earning a reputation as a leader in plant-based cuisine. He was also instrumental in the installation of the world's first complete vacuum waste management food digester system, saving food waste from landfills by converting it to fertilizer.
Glanville continues to believe strongly in the importance of sustainability, and considers reduction of waste a priority in the Middle East. "Chefs are the decision makers for the food they provide guests, and every decision sends a message to the supply chain. It's a privilege that can touch thousands of people daily, so we must focus on ingredients that are ethical, seasonal, and local to minimize our impact on the environment."
He has been impressed with Saudi Arabia on the last, noting that while the Kingdom is developing as a major food producer, he quickly tapped sources for wild and aquaculture seafood, local cheeses, and hydroponic and seasonal produce. "A five-star hotel is no different than a small restaurant in a village," he says. "We need to talk to local producers to be certain our guests are getting the real deal."
Away from the kitchen at the Kingdom Centre, Glanville enjoys staying on top of the hospitality scene across the Middle East. "The opportunity to work here with Four Seasons at this time is very rewarding. The pace is fast at the moment, and it will only quicken as more competitors arrive and things continue to grow."