Back to Main
Four Seasons Hotel Riyadh at Kingdom Centre
Kingdom Centre, P.O. Box 231000, Riyadh, 11321, Kingdom of Saudi Arabia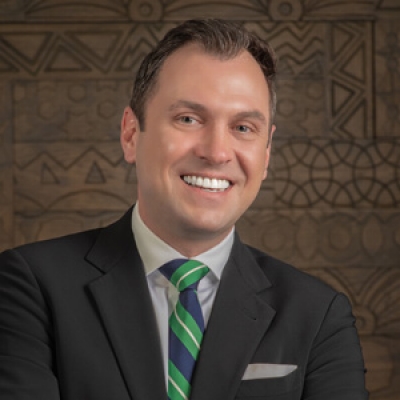 Swen Ehlender
Director of Marketing
"Four Seasons is well known as the top of the top in the Middle East. As the brand expands in the region, our business will continue to grow."
Four Seasons Tenure
Since 2020
First Four Seasons Assignment: Current
Employment History
Mandarin Oriental Hotel Group; InterContinental Hotels Group, Kerzner International; One&Only Resorts; Atlantis Resorts
Birthplace
Education
High School Diploma & State certified Hotel Management, Immanuel-Kant Gymnasium Hamburg, Germany
Languages
German, Turkish, English, Latin
"I've always been amazed at hotels, and this one is amazing," says Swen Ehlender, who as Director of Marketing for Four Seasons Hotel Riyadh at Kingdom Centre is in position to know. Overseeing the sales and marketing department, Ehlender plays a pivotal role in minding reservations, revenue management, communications and more to ensure the property is on the radar of travellers and locals alike. "My team is essential to operations," he says. "We don't make the guest experience, but we bring in people to enjoy it."
Staying on top of trends and engaging international travel professionals and event specialists are crucial to his success. So, too, is positioning the property – which occupies floors 30 through 50 of the stunning 99-storey Kingdom Centre towering above the capital city – to benefit from Saudi Arabia's new openness and efforts to draw leisure travellers and international investment. Plans include a new luxury development focused on wellness and culture along the Red Sea.
Just being in the Kingdom Centre makes the Hotel an attraction, says Ehlender, noting the range of possibilities for visitors to enjoy from strolling the sky bridge atop the building's distinctive parabolic arch, to a world of shopping, dining, and entertainment nearby. Meanwhile, the name on the Hotel door is an attraction all its own. "Four Seasons is well known as the top of the top in the Middle East. As the brand expands in the region, our business will continue to grow."
Indeed, the Hotel is impressively equipped to dazzle a range of clientele with 7,200 square metres (77,600 square feet) of indoor event space and a catering operation capable of serving up to 5,000 people at outdoor events held throughout Saudi Arabia. The department handles reservations for catering and food and beverage: Weddings are a huge market, as are the diplomatic sector and the Royal family.
Ehlender oversees approximately 30 people throughout the department. As a manager, he leans toward transparency and direct communication, maintaining an open-door policy while being very hands-on. He's not a micromanager. "But if I see a colleague who isn't getting anywhere on something, I'll jump in. I'll carry tables if necessary."
Hotels and hospitality are naturals for Ehlender. Growing up in Hamburg, Germany, he travelled frequently with his family, including a younger sister, often staying at grand hotels across the south of France. He was "always amazed" at the splendour waiting inside and at watching hotel teams in action.
His mother had hopes he would become a doctor or a lawyer – "Hence, I got signed up for Latin instead of French at school" – but he always knew where his future lay. His original dream was to work in a front office. It came true after an apprenticeship, but it didn't last. "I quickly realised I'm too social and talkative for the front office. The sales-and-marketing element was what attracted me."
Once on the right course, Ehlender gained experience with international hotel groups, working in executive sales positions first in his home country, then in Dubai and on the Aegean coast of Turkey. Along the way, he acquired extensive understanding of market dynamics and the nuts and bolts of how hotels operate. He also connected with a mentor, Guenter Gebhard, who as General Manager at Four Seasons Hotel Riyadh appointed him to his current position.
So what might Ehlender's future hold? "I hope my next step will be as a hotel manager somewhere," he says. "Definitely – that's my aim."
Now happy to be back in the Middle East, Ehlender enjoys whiling away downtime traveling as he can – "I enjoy it so much" – and keeping a sharp eye on fashion trends. He has a particular taste for Armani, Gucci, and Hermès, and a lot of suits in his closet. How many? "Gosh, I'm not sure. I guess too many."