Back to Main
Four Seasons Resort Scottsdale at Troon North
10600 East Crescent Moon Drive, Scottsdale, Arizona, 85262-8342, USA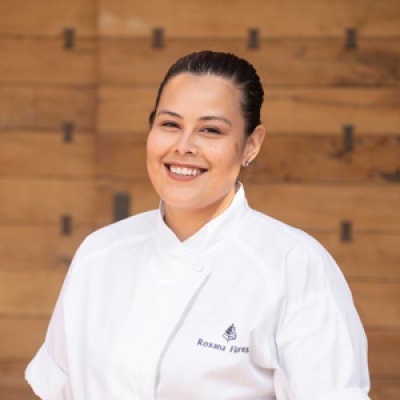 Roxana Flores
Sous Chef
"My culinary philosophy is to keep it simple – there is no need to overcomplicate food. It comes down to the basics, in seasoning and technique. I love seeing a golden brown crust on a simple piece of seared meat. I often tell the cooks that food should be GBD – golden brown and delicious!"
Four Seasons Tenure
Since 2014
First Four Seasons Assignment: Beverly Wilshire,

A Four Seasons Hotel
Employment History
Four Seasons Hotel Washington, DC; Beverly Wilshire,

A Four Seasons Hotel
Education
Le Cordon Bleu, Pasadena, California
Birthplace
Los Angeles, California, USA
Languages Spoken
Born and raised in Los Angeles, California, Sous Chef Roxana Flores grew up in a culinary family. Her dad was a sous chef and her mother often cooked traditional dishes from her native El Salvador. Flores remembers being inspired by the tastes and smells of the kitchen at an early age. She set her sights on attending Le Cordon Bleu in Pasadena, California, having long admired the school's training program and reputation.
"I was able to learn a lot about the basics of cooking, but nothing can really prepare you for the realities of a professional kitchen until you're in it," says Flores.

Following graduation, Flores launched her career at a restaurant in Los Angeles. In 2014, she accepted the role as a line cook at Beverly Wilshire, A Four Seasons Hotel. She remembers the many unique guest requests and high-profile clientele who frequented the property.
"We had many high-profile guests, some with more specific requests than others," says Flores. "The requests varied from something as simple as making turkey sliders to a freshly prepared branzino, baked whole in salt crust. We did our best to fulfill the guests' requests and it was rare that we couldn't make it happen!"
From Los Angeles, Flores' next step was Four Seasons Hotel Washington, DC as Sous Chef. Here, she was able to grow her culinary skills, even joining Executive Pastry Chef Yudith Bustos for the Four Seasons Pop Down in London in October 2019. During this experience, Flores learned more about the art of pastry, as well as connected with fellow Four Seasons chefs from around the world. Another revelation was to dispel the myth that English food was bland and boring, as Flores learned exploring London and trying many unique dishes.

Being from the San Fernando Valley, Flores says her culinary style is a blend of many cultures, a melting pot similar to the makeup of the United States. This style is fitting for her role in Scottsdale at the helm of Proof, an American Canteen, featuring regional cuisine with global influences from across the 50 states. 

"My technical training is French, but I find myself coming back to my Salvadorian roots," says Flores. "I love to cook versions of my mother's comfort foods, such as braised chicken and empanadas, but mixing in Asian influences from my upbringing in southern California."

"My inspiration comes from the ingredients themselves, starting with how a certain ingredient would be best prepared, and building from there. For example, I know that a beet needs to be roasted to bring out its sweetness, and adding orange juice and a bit of white wine enhances that flavour," she says. "The trick is building around what complements the beet, without changing the integrity of its natural flavour."

In her leisure time, Flores enjoys looking for new cookbooks and trying new recipes at home. She also enjoys hiking, and taking advantage of Scottsdale's more than 330 days of sunshine to explore nearby trails.