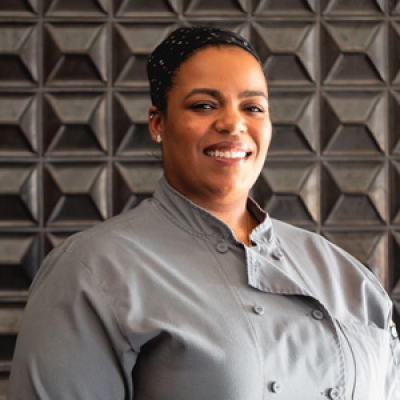 Danielle Grogan
Pastry Chef
"I've always loved food, but seeing the joy that food brings to people has always put a smile on my face."
Four Seasons Tenure
Since 2010
First Four Seasons Assignment: Four Seasons Hotel Washington, DC
Employment History
Four Seasons Hotel Washington, DC
Education
Culinary Arts and Food Service Management Degree, City College of San Francisco
Birthplace
Bay Area, California, USA
Languages Spoken
Did you know that Pastry Chef Danielle Grogan was an accomplished cookbook author when she was 7 years old?
"My elementary school had an after-school class for kids, and we would make fun snacks and treats," recalls Grogan. "We put a cookbook together, which I still have, called Kidz in the Kitchen."
So, the story of her love for cooking began. During Grogan's culinary studies, one of the rotation of stations was bread baking and desserts. It was a turning point, as her love and passion for pastry began.
Grogan interned at The Mark Hopkins Inter-Continental Hotel in San Francisco then set sail on a cruise ship in Hawaii. She then moved across the country to Washington, DC for a short stint at a local Italian restaurant but soon after joined her first Four Seasons in 2010.
"It always fascinated me that someone can make food look like a work of art," says Grogan. "I believe that became my goal and that's something I strive for everyday: to make food like a piece of art, and also taste amazing!"
As the Pastry Chef at Four Seasons Hotel Seattle, Grogan's works of art come to life through creative dessert trios for the popular Goldfinch Tavern brunch and masterpiece wedding cakes for discerning couples to holiday dessert buffets and custom themed welcome amenities.
Since joining Four Seasons Hotel Seattle in the fall of 2019, guests have come to know Grogan's nostalgic take on favourite desserts, creating new memories with her combinations of flavours and unique presentation.
"I gather inspiration for my dishes from almost everywhere - people around me, books, the Internet, travels," says Grogan. "Some ideas just come about simply through conversation and thinking of childhood memories."
As Grogan continues to evolve her baking style, she enjoys sharing in her knowledge through classes. Each year, she's led cookie decorating classes during the holidays as well as participated in local pastry events.
When asked what her favourite dessert is, Grogan says, "I always say I don't have a favourite, but deep down I love anything with chocolate and hazelnut; panna cotta; and peanut butter cookies."