Back to Main
Four Seasons Hotel The Surf Club, Surfside, Florida
9011 Collins Avenue, Surfside, Florida, 33154, U.S.A.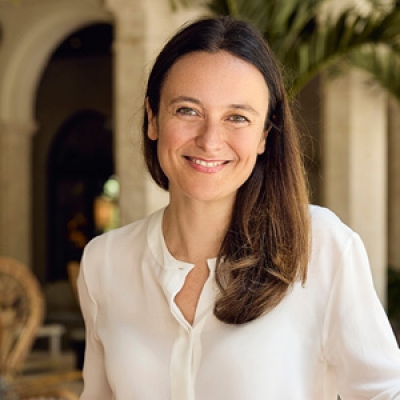 Daniela Trovato
General Manager
"Expectations change, so we're constantly building new experiences and creating loyalty. The way to do that is through our people."
Four Seasons Tenure
Since 2005
First Four Seasons Assignment: Sales Assistant, Four Seasons Hotel Milano
Employment History
Four Seasons Hotel Firenze; Four Seasons Hotel Milano; Starwood
Birthplace
Bassano del Grappa, Italy
Education
Hotel Business Administration, Cesar Ritz, le Bouveret, Switzerland; BSc degree, Oxford University, England
Languages Spoken
Italian, English, Croatian
Daniela Trovato has seen success on all sides of the guest experience at Four Seasons, but she really likes being right in the middle of it. "As a General Manager, I get to talk to our guests and residents: find out who they are, where they've travelled or why chosen to call this home, what they like," she says of her role at Four Seasons Hotel and Residences at The Surf Club. "It's the most authentic way to stay on top of what's going on and what people are seeking, and it's a lot of fun at the same time."
A lively conversationalist with a spirit to match, Daniela taps what she discovers to shape new experiences for guests, residents, and locals – and then jumps right in. When she first arrived at her new home away from home at Four Seasons Hotel and Residences at The Surf Club, she could immediately envision what nights at Winston's on the Beach, the property's poolside restaurant, could look like, or how Four Seasons at The Surf Club could offer extraordinary experiences during the many globally recognised events that Miami attracts.
When she's connecting with guests, she is more likely to spend time with them over ice cream, the latest cocktail from The Champagne Bar, or even working out at the Fitness Centre than over the usual coffee. "Anything for them to feel welcome and that we are here just for them."
Daniela joined Four Seasons on the marketing side - an atypical start for a General Manager, but one that came naturally for someone with her communications skills. "I wanted to be hands-on and experience day-to-day life at a hotel," she recalls of her switch to operations. "In sales, I spent my time thinking strategically. On the floor, it's about what is needed right now."
She engages her team members avidly, the better to glean what they're doing and why they're doing it. It's easy to take for granted that everybody knows their purpose, she says, "but it's something that needs to be consistently developed and reinforced. From managers to waiters, we all need to be aware of our vision and where it's taking us."
Daniela is a big believer in being challenged on the job. She sets herself a modest goal of "giving 110 percent" and surpassing even the highest of standards. It's not enough to be merely successful: "Expectations change, so we're constantly designing new experiences and creating loyalty. The way to do that is through our people."
"This is very fun industry," she says, noting responsibilities such as dreaming up new experiences for the serene beach just steps away. "Every day is different and we get to embrace true luxury. That's a gift we should all enjoy."
Born north of Venice, Italy, Daniela followed her parents into hospitality. Both were maître ds working and travelling in Switzerland, and every Hotel was a new place for her to explore. "We'd check in, and I'd ask about the restaurant, the mini bar, the shoeshine program. I'd always check out the pool." The fascination lingers: "Whether here or somewhere else, I have no problem spending hours and hours in a hotel."
When Four Seasons first sought to recruit Daniela from hospitality school, she initially resisted, thinking the company might not be her style. Five phone calls later, impressed by the persistence, she agreed to an interview at Four Seasons Hotel Milano.
Recalling her experience of speaking with the General Manager in Florence, the beloved hotelier Patrizio Cipollini, "He told me, 'If you really want to sell luxury, this is the only place,' and I thought, 'yes, this is the place for me.'" Nine years later, Daniela was promoted to oversee marketing first for Italy, then for the French Riviera too. She made the leap to operations in summer 2018.
These days, she is inspired by the beauty and legendary history of The Surf Club, the guests it draws, and the opportunity to turn experiences into memories. "The team here welcomes them warmly and everyone is essentially a guest relations expert, always ready to provide an exceptional experience from the simple to the extraordinary. It just comes naturally to them."
In her time away from work, Daniela loves spending time with her wife Kristen and son Eric, and enjoying the beautiful South Florida outdoors with fitness activities including tennis.