Back to Main
San Domenico Palace, Taormina, A Four Seasons Hotel
Piazza San Domenico, 5, Taormina, Sicily, 98039, Italy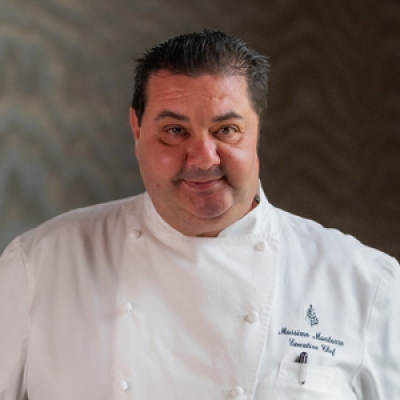 Massimo Mantarro
Executive Chef
"I make a point never to copy anyone. That takes me down some interesting avenues, but wherever I end up is a true reflection of myself and my culture."
Four Seasons Tenure
Since 2020
First Four Seasons Assignment: Current
Employment History
Principe Cerami, Taormina, Sicily, Italy; Duomo, Ragusa, Sicily; Mulinazzo, Palermo, Sicily; Don Alfonso, Campania, Italy; Del Cambio, Torino, Italy; Villa S. Andrea, Taormina
Birthplace
Piedimonti Etneo, Catania, Sicily, Italy
Education
Istituto Professionale di Stato per l'Enogastronomia e l'Ospitalità Alberghiera "G.Falcone", Giarre, Sicily, Italy; Etoile Academy, Tuscania, Italy; L'École Lenôtre Paris, France  
Languages Spoken
"There is no innovation without tradition," says Massimo Mantarro, who made his reputation innovating on traditional Sicilian cuisine at San Domenico Palace. Now he is doing the same under a new flag as Executive Chef of San Domenico Palace, Taormina, A Four Seasons Hotel. "Tradition fuels my thinking in the kitchen, and I innovate through cooking technique," he continues. "I learn by making mistakes and thinking creatively with the result." For instance? Speaking of cooking techniques, "Once I accidentally froze some zucchini, and found that it preserves all the colour and flavour but gives the squash new textures. There is a lot of trial and error in my cooking, with creative flair at the end."
Travellers and locals have many opportunities to experience Mantarro's genius and innovation at San Domenico Palace. He oversees every detail from the back of the house through the front at four distinctive food and beverage outlets, each set before striking water views above the beautiful Baia delle Sirene. The signature fine-dining Principe Cerami is the Hotel's marquee restaurant, sized for just 30 guests to experience Mantarro's contemporary reinterpretations of classic Sicilian cuisine that combine local ingredients and traditions into deceptively simple creations.
The Chef also fashions the Hotel's in-room dining menu, which he has lined with international dishes presented Sicilian style upon colourful plates and ceramics. The "hero" of in-room breakfast is the granita, he says, describing the traditional Sicilian creamy iced beverage made with homemade almond milk and topped with vanilla whipped cream – perfect accompaniment for a fresh baked brioche served warm. Or, as an alternative, guests can enjoy other delicacies that are part of Mantarro's "Sicilian Breakfast" such as oven-fresh croissants with honey from the slopes of Mount Etna, or a tasty plate of local cheese and salami.
The bounty of Sicily is a key Mantarro's creativity, and he treats each ingredient with respect. He likes to surprise his guests, playing off seasonality with originality. "I make a point never to copy anyone," he says. "That takes me down some interesting avenues, but wherever I end up is a true reflection of myself and my culture." He points to unexpected pairings, such freshly foraged herbs combined with antique legumes such as lentils from Ustica or red-streaked "badda" beans. "That may not be something people expect from an award-winning restaurant, but they sure won't push it away."
Mantarro has worked to build an intricate web of suppliers throughout Sicily and mainland Italy over the past decade, always driven by his desire to offer international clients true tastes of the region, "and only the best." He counts among his current favourites a dairy farmer who works with the milk of the rare Girgentana goat and a small farmer near Ragusa who is "completely focused" on nurturing select varieties of tomatoes. "I have found that every producer has their own story to tell. I think the wealth of offerings here is incredible."
Born in Piedimonti Etneo and raised in Caltabiano, Mantarro credits his "love of eating, our family garden, and, of course, my mother's cooking" for inspiring his pursuit of a culinary career. His brothers chose to work in restaurants as well, and his parents never tried to steer any of them toward anything else. "They gave me carte blanche and were happy with my career choice," he remembers. "They knew I was following my passion."
And follow it Mantarro did, pursuing culinary training at a local catering school as well as at academies in Venice and Paris. After getting his start at hotel in Taormina, he headed north to work in Turin, and then returned south to Campania, followed by restaurants in Palermo and Ragusa before joining San Domenico Palace. In 2002, he made a splash opening Principe Cerami, named for the nobleman who owned the ancient San Domenico monastery when it was turned into a hotel in 1896. In 2021 Principe Cerami reopens under the Four Seasons signature and in 2022 Chef Massimo Mantarro is awarded with one Michelin star Italia 2023.

So what has Four Seasons brought to the culinary operation Mantarro oversees at San Domenico Palace? He is most enamored of the company's philosophy of caring about and educating its talent. "It's a great way of working that only elevates things." Meanwhile, Mantarro describes his personal management style as "authoritative, but not authoritarian." He's "an open book," he says, always happy to impart knowledge and to excited to train the talent. "We started with completely new teams at each restaurant. They're ambitious, hardworking, and hungry to learn – a huge source of pride for me."
Right at home in Taormina and well acquainted with greater Sicily beyond, Mantarro likes to hunt in his downtime and loves his dogs – two good-natured golden retrievers that he keeps as pets, and two diligent springer spaniels who join him in pursuit of migratory birds. "It's always a pleasure to get out in the wild, and then to be welcomed home with wagging tails and friendly smiles."